Bill Belew
The clothing designer, who designed the costumes for Elvis' 1968 TV special "Elvis", and worked with Elvis on stage and personal wardrobe from that time until Elvis's passing in 1977.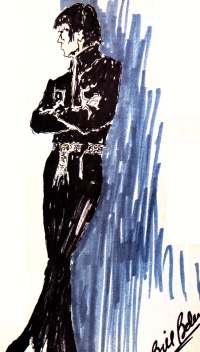 Bill Belew graduated from New York's Parsons School of Design whose many alumni include designers Donna Karan and Isaac Mizrahi and illustrator Norman Rockwell. He has designed costumes for theatrical productions, musicals, operas, ballets as well as for TV series and specials. His work has adorned such stars as Lena Horne, Ella Fitzgerald, Gloria Swanson, Lynn Redgrave, Florence Henderson, Brooke Shields, Jaclyn Smith, Joan Rivers, Gladys Knight, Dolly Parton, Gloria Estefan, Milton Berle, Doc Severensen, Mac Davis, Ronnie Milsap and The Osmonds among others. He has designed for such productions as the New York City Ballet's "Giselle", the San Francisco Ballet's "America", Chicago Opera's "Tosca" and many others. His designs have been seen on the television programs "Santa Barbara", "The Flip Wilson Show", "The Captain & Tennille Special", "Dorothy Hamill Presents Winners", as well as "The Carpenters: Music, Music, Music", which garnered Mr. Belew a 1980 Emmy Award nomin!
ation for Outstanding Costume Design.

Shortly before Elvis' 1968 TV special, Belew had worked with its producer/director Steve Binder and partner Bones Howe on a Petula Clark TV special. When Binder and Howe began to put together their creative team for Elvis, they chose Belew to design the clothing. He quickly went to work and came up with the sketches for the now-famous black leather suit, which Elvis wore for much of the progrm. He has said that Elvis was very agreeable and that working with him was very easy. However, there was a small bit of discord when it came to a particular one of the several outfits made for Elvis to wear in the semi-autobiographical "Guitar Man" production number, which chronicles a "guitar man's" rise from obscurity to great success and then a return to his roots. As chronicled in Peter Guralnick's book "Careless Love": "Elvis listened, nodded, and agreed to virtually every suggestion that Belew made. The designer was dumbfounded. He had never encountered such a lack of ego in a b!
ig star before. The one subject about which they had any disagreement was the gold suit that Belew designed to symbolize success, in homage to the suit that Colonel (Parker) had had made up for Elvis in 1957. Elvis never explained his opposition but was clearly embarrassed by it, and in the end they worked out the same compromise solution that he had agreed to in the fifties: he would wear the gold jacket with a pair of black tuxedo pants."

Bill Belew continued to design for Elvis from then on - much of his personal wardrobe and most of his stage wardrobe, including the famous jumpsuits of the 1970's. Elvis would approve his sketches, sometimes indicating things he preferred. Elvis did request that he design "..something very patriotic, something with the spirit of America" for the historic 1973 "Aloha From Hawaii" concert. Mr. Belew said that nothing could say "America" any more than the American Eagle, and that is the design they decided upon. Belew estimates that he designed between 100 and 150 jumpsuits for Elvis, many of which are still in the Graceland Archives collection. Belew also designed special wardrobe items for Elvis's wife, Priscilla - including special gowns she wore to some of Elvis's engagements in Las Vegas.