Christmas Albums


Elvis Presley's Christmas Albums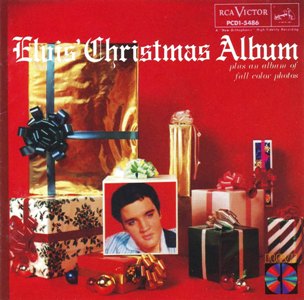 Elvis recorded his first Christmas album in sessions of September 5 - 7, 1957 at Radio Recorders in Hollywood. It was simply entitled "Elvis' Christmas Album" and was released in October 1957. Content included Christmas hymns, secular Christmas songs and non-holiday gospel numbers. It initially hit #1 for 4 weeks on Billboard's pop album chart and revisited the chart due to strong sales in subsequent holiday seasons through 1962. It was repackaged with a new cover in 1958. There were other reissues with altered content and cover later on. Eventually, the original 1957 content with original cover art came out again in the CD age.

Working the sessions with Elvis were Scotty Moore (guitar), Bill Black (bass), D. J. Fontana (drums), Dudley Brooks (piano), and backing vocalists The Jordanaires and Millie Kirkham. These sessions were Millie's first work with Elvis, who, ever the gentleman, took special care to see to her comfort because she was seven months pregnant at the time. Millie performed a soprano obbligato (in a "winter wind" sort of effect) behind Elvis' lead on the song "Blue Christmas", a song that over the years would become synonymous with Elvis and Christmas. During the session, song writers Leiber and Stoller wrote for Elvis a song called "Christmas Blues". By the end of the session it was renamed "Santa Claus Is Back In Town" and it became another famous Elvis Christmas song. Material unrelated to the Christmas album was also recorded at these sessions.

Elvis recorded a second Christmas album called "Elvis Sings The Wonderful World of Christmas" in sessions of May 15 -21, 1971 at RCA Studio B in Nashville. It was released October of 1971. Players were James Burton (guitar), Chip Young (guitar), Charlie Hodge (guitar), Norbert Putnam (bass), Jerry Carrigan (drums), Larry Londin (drums), Kenneth Buttrey (drums), David Briggs (piano), Imperials member Joe Moscheo (piano), Elvis Presley (piano), Glen Spreen (organ), and Charlie McCoy (organ, harmonica and percussion). Backing vocalists were The Imperials, June Page, Millie Kirkham, Ginger Holiday and Temple Riser. For this album producer Felton Jarvis attempted to set the Christmas mood in May by having the studio decorated with a tree and empty boxes beautifully wrapped. Elvis even brought gifts for everyone, presenting each with engraved gold bracelets that said "Elvis '71". Songs unrelated to the Christmas album were also recorded at these sessions.

The Christmas hymns and secular holiday tunes recorded in these sessions and more have appeared on various compilations over the years. Sorting through all of them to determine the optimum selection can can be a challenge for the new Elvis fan. All the masters of his studio recordings of Christmas songs (religious and secular) can be found on the 1994 one-disc CD compilation "Elvis Presley - If Every Day Was Like Christmas". All the masters from his non-Christmas religious recordings in these sessions and others are found on the three-disc CD compilation that came out in 2000, "Elvis, Peace in the Valley, The Complete Gospel Recordings".