The Real Flying Elvis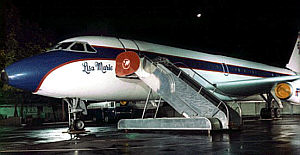 In the 1950s Elvis Presley toured mostly by car. In fact, he and his band wore out a number of cars driving from city to city to perform. He rarely traveled by plane due in part to a troubled flight he had once in a small chartered plane.

In the 1960's Elvis didn't tour, but rather focused on his movie career. He often traveled by train and then later his custom bus to get back and forth between Memphis and Hollywood.

With the 1970s came Elvis' return to the concert stage and touring across America. The distance between concerts and the fast pace of the tour
schedules made flying a necessity and he started chartering larger jet planes. In April 1975 he decided to acquire his own jet. He sent his associate Joe Esposito to look for one. Joe found Elvis a Convair 880, a former 96-passenger Delta airliner.

Elvis paid $250,000 for the plane and spent over a half a million dollars more to have it customized to include a lounge with suede sofas and leather-topped game tables, a conference/dining room with leather recliner chairs, a sitting/guest bedroom, a master bedroom with a queen-size bed, and a fully equipped galley, and two half-baths with 24K gold-flecked sinks. Television, video and stereo systems, sky phones and gold-plated seat belt buckles were among the other appointments and accessories. With the refurbishment the jet acquired a new name, the "Lisa Marie" in honor of Elvis' daughter, and the nickname "Hound Dog I".
Elvis employed a full-time crew of four for his plane - Captain Elwood David, co-pilot Ron Strauss, flight engineer Jim Manning and flight attendant Carol Bouchere.

This Convair 880 was one of only 65 made by the Convair Division of General Dynamics Corporation of San Diego, California in 1958. It was called 880 based on its cruising speed in feet per second. It was a very fast plane but used a great
deal of fuel. It consumed 1,700 gallons per hour and using 2200 gallons on take-off alone. Used primarily by TWA, Delta, and Northeast Airlines, they became too expensive to operate and were retired in the wake of the oil crisis of the
early 1970s. Once, many of the decommissioned Convairs were housed in the Mojave Desert
where the climate protected their parts and wiring from decay. However, only a few now are
still in existence, having been scrapped in late 2000. Today, a group of volunteers called Team Convair 880 works to restore a plane known as Convair Ship 23 to air worthiness, determined to make this once proud bird fly again. Elvis' Convair, however, is permanently grounded, parked across the street from Graceland Mansion for the enjoyment of the Graceland visitors who take an on-board tour of the plane.