Session Drummer Hal Blaine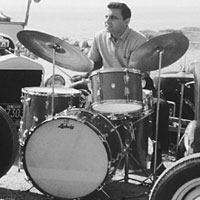 Hal Blaine was a session drummer who worked with Elvis on a number of his movie soundtrack albums as well as the 1968 TV special "Elvis".

Mr. Blaine had been known for his expertise with exotic percussion, so he was first brought in to work on the soundtrack for the film "Blue Hawaii" in March 1961. It isn't uncommon to have more than one drummer working on the percussion for an album, so Mr. Blaine joined D.J. Fontana on many more Elvis sessions in the 1960s. These soundtracks included the films "Girls! Girls! Girls!", "Fun In Acapulco", "Roustabout", "Paradise Hawaiian Style", "Easy Come Easy Go", and "Live A Little Love A Little."

Hal Blaine was born Harold Simon Belsky in Holyoke, Massachusetts on February 5, 1929. He began drumming professionally in 1948 and by the 1950s was working with the Tommy Sands band. He became a much requested session drummer in the 1960s, working with such artists as The Beach Boys, Jan and Dean, Sonny and Cher, Simon and Garfunkel, Johnny Rivers, Nancy Sinatra, Frank Sinatra and many others. He also became a big part of Phil Spector's "Wall of Sound", working with The Ronettes and The Crystals.

By his own estimate, he has performed on over 35,000 recorded tracks. Forty of the songs he has worked on became #1 hits, while another 150 were top ten hits. Eight of them received Grammy awards as Record of the Year. Hal Blaine was inducted into the Rock and Roll Hall of Fame in the Side Men category in March 2000.

He is today still very active in the music industry and has written his memoirs in "Hal Blaine and The Wrecking Crew" with David Goggin.