Hope Lange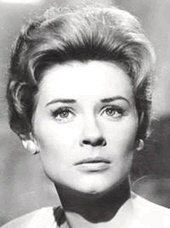 A profile on Hope Lange, one of Elvis's leading ladies:

Hope Lange co-starred in Elvis's seventh movie, "Wild In The Country" (20th Century Fox, 1961). She played the psychologist who tries to help Elvis's character Glenn Tyler, a troubled young man, while trying to resist their mutual attraction.

Ms. Lange was born Hope Elise Ross Lane on November 28, 1933 in Redding Ridge, Connecticut. Her father was a composer and musical arranger for the Ziegfield Follies. Her mother was an actress.

The family moved to Greenwich Village when she was a child. Soon after that her father died and her mother opened a restaurant to support Hope and her siblings. Hope often helped out there. She studied dance and made her debut on Broadway at age 12 in the Pulitzer prize winning play "The Patriots." Her big break can be attributed to Eleanor Roosevelt and her Scottish terrier Fala. Mrs. Roosevelt lived near the family restaurant and became a patron there. Hope often walked Fala for Mrs. Roosevelt and was once photographed by paparazzi. The appearance of her photo in a newspaper led to work as a model and eventually work on television. She was spotted on the Kraft Television Theatre by film producer Buddy Adler who brought her to Hollywood at the age of 26 for her first film role, which was in the 1956 movie "Bus Stop," starring Marilyn Monroe. Ms. Lange's first husband, actor Don Murray, was also in the film. They were married from 1956 to 1961 and had two children together - son Christopher and Patricia.

In 1956, Hope Lange co-founded the Homeless European Land Program, a private initiative dedicated to the resettling of Eastern European refugees on the Italian island of Sardinia. Don Murray said that she put all her money into the project, living a sparse life herself for two years in order to fund the program.

She may be best known for her role in the 1957 film "Peyton Place," based on the best selling novel by the same name. It was considered a racy movie for the time as it focused on suicide, abortion, incest and murder in a small town in New England. Her work in the film earned her both an Academy Award nomination and a Golden Globe nomination as Best Supporting Actress.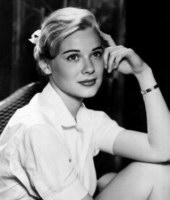 Her career continued with roles in such films as "The Young Lions" with Montgomery Clift and Marlon Brando and "The Best of Everything" with Joan Crawford. And of course the 1961 role of Irene Sperry, opposite Elvis Presley's Glenn Tyler in "Wild In The Country."

By 1968 she had the lead role in the TV series "The Ghost and Mrs. Muir" for which she won the Emmy Award for Outstanding Lead Actress in both 1969 and 1970. She also received a Golden Globe nomination for the role in 1969.

Her second husband was director and producer Alan J. Pakula. They were married from 1963 to 1971.

She starred opposite Dick Van Dyke from 1971 to 1974 on "The New Dick Van Dyke Show." She received Emmy nomination for her work in the 1972 TV production of "That Certain Summer." In 1974, she played the role of Charles Bronson's wife in "Death Wish." Some of her other film roles were in "Nightmare on Elm Street Part 2: Freddy's Revenge" (1985), "Blue Velvet" (1986), and "Clear and Present Danger" (1994). Her last film was "Just Cause" (1995) with Sean Connery, Laurence Fishburne and Kate Capshaw. Also appearing with her in that film was her actor son Christopher Murray. who has also been in the film "The Pelican Brief" and on TV shows such as "Crossing Jordan" and the "The West Wing." Her last role was on TV 1998's "Before He Wakes."

In 1986, she married her third and last husband, theatrical producer and vice president of the Actor's Fund of America, Charles Hollerith Jr.

Hope Lange died in Santa Monica, California on December 19, 2003 at the age of 70, due to complications from ischemic colitis. She was survived by her husband, her two children and two grandchildren.