Shaun (a.k.a. Sherrill) Nielsen & Elvis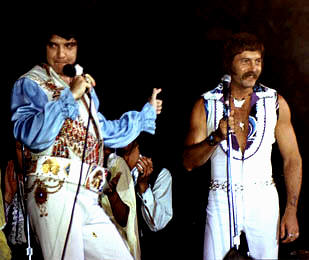 It is well documented that Elvis Presley enjoyed listening to Southern gospel quartets. Many of his close friends and associates were singers he met through gospel music. One such friend and eventual back up singer was Shaun (a.k.a. Sherrill) Nielsen.

Shaun was born in Montgomery, Alabama. He served in the Air Force and was a soloist for the Strategic Air Command Band. Some of his musical influences were Mario Lanza, Irish tenor John McCormick, Roy Orbison, Hank Williams and, of course, Elvis Presley.Shaun met Elvis in Nashville in May of 1966 during the recording of the album "How Great Thou Art". At the time he was a member of the gospel group The Imperials along with Jake Hess. Elvis had told his producer Felton Jarvis that he would like The Imperials, as well as The Jordanaires, to work on this gospel album.

Shaun has been quoted describing their first meeting as follows: "I'll never forget that night. I was standing in the corner, just being inconspicuous, thinking how many people would love to be in my place, when the door swung open, and there he was, Elvis Presley. Seeing him in movies and on TV was one thing, but seeing him in person was a whole new experience. He was wearing a cape and a wide brim jet black Superfly hat straight from Beale Street in Memphis. Elvis was blessed with incredible features. What would look ridiculous on you and me, would fit him to a tee. To say I was somewhat intimidated is possibly the understatement of the century. But he put me very much at ease when he walked right by past all the music industry moguls, stuck out his hand and said, 'Hi, I'm Elvis Presley. I've got all of your albums and you are one of my favorite singers.' I think I looked behind me to make sure he was talking to me. For a moment I was speechless, but I managed to stammer ou!
t a 'Thank you', and I didn't have any idea he knew who I was, but that was the Elvis I came to know and love."

Shaun went on to work with the Song Fellows as well as the Statesmen Quartet with Hovie Lister. In September 1973 Elvis flew Shaun and his new singing group, which included J. D. Sumner's nephew Donnie, into Las Vegas to audition for Tom Jones who was having difficulties at the time with his backup group. Things didn't work out with Jones, but Elvis decided to draw up a contract himself and hire them to be in his show and to be available at all times to sing with him off stage as well. He named the group Voice after a single-issue spiritual journal "New Age Voice" which Larry Geller published and gave Elvis.

Two of Elvis' songs that feature the tenor voice of Shaun are the introduction "O Sole Mio" added to "It's Now or Never" and the song "Softly As I Leave You", in which Shaun sings as Elvis gives a recitation. Both were powerful renditions in Elvis' live shows.

Today Shaun still performs and fondly recalls what Elvis once told him: "...God loves you, but he loves you best when you sing."

He was known as Sherrill Nielson, his original name, for many years. At some point he had his name changed to Shaun. While Sherrill is a male name, it's not very common and some people mistakenly think of it as a female name. Shaun has said that after enough instances of hearing himself paged "Phone call for Miss Sherrill Nielson", changing his name to Shaun seemed like a good idea.

Shaun was among the artists who joined the large cast of former Elvis bandmates for Elvis: The 25th Anniversary Concert in Memphis on August 16, 2002.