Clambake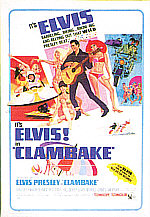 Clambake
United Artists

Running time: 99 minutes
Release date: 12/4/67
Songs
"Clambake," "Who Needs Money," "A House That Has Everything," "Confidence," "Hey, Hey, Hey," "You Don't Know Me," "The Girl I Never Loved," "How Can You Lose What You Never Had."
Credits
Produced by Levy-Gardner-Laven Productions
Directed by Arthur Nadel
Story and Screenplay by Arthur Brown, Jr.
Photographed by William Margulies, A.S.C.
Edited by Tom Rolf
Music by Jeff Alexander
Technical Advisor: Colonel Tom Parker
Photographed in Techniscope and Technicolor.
| | |
| --- | --- |
| Cast | |
| Scott Heywood | Elvis Presley |
| Dianne Carter | Shelley Fabares |
| Tom Wilson | Will Hutchins |
| James Jamison III | Bill Bixby |
| Sam Burton | Gary Merrill |
| Duster Heywood | James Gregory |
| Ellie | Amanda Harley |
| Sally | Suzy Kaye |
| Gloria | Angelique Pettyjohn |

Synopsis


Scott Heywood, millionaire's son, leaves home to see if he can accomplish something worthwhile on his own. En route to Miami Beach, he exchanges identities with Tom Wilson, a poor water-ski instructor.
Scott 's first student is Dianne Carter, who is in Miami to catch a rich husband and sets her sights on James Jamison III, a playboy and boat racer. Scott becomes jealous when Jamison becomes interested in Dianne and becomes determined to impress the girl.
Unable to fall back on his wealth, Scott forms a partnership with Sam Burton, who owns a new design craft that mysteriously ripped apart in the previous year's boat race. Scott perfects a hardener for the protective coating on the ship and the craft is ready to race. Unable to test it before the race, Scott risks life and limb in the effort to win the race and the girl.