Double Trouble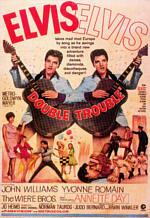 Double Trouble
Metro-Goldwyn-Mayer

Running time: 90 minutes
Release date: 5/24/67
Songs
"Double Trouble," "Baby, If You Give Me All Your Love," "Could I Fall in Love," "Long Legged Girls (With Short Dresses On)," "City of Night," "Old MacDonald," "I Love Only One Girl," "There's So Much World to See," "It Won't Be Long."
Credits
Produced by Judd Bernard and Irwin Winkler.
Directed by Norman Taurog.
Screenplay by Jo Heims.
Based on a Story by Marc Brandel.
Photographed by Daniel L. Fapp, A.S.C.
Edited by John McSweeney.
Music Score by Jeff Alexander.
Art Direction by George W. Davis and Merrill Pye.
Choreography by Alex Romero.
Special Visual Effects by J. McMillian Johnson and Carroll L. Shepphird.
Makeup by William Tuttle.
Assistant Director: Claude Binyon, Jr.
Technical Advisor: Colonel Tom Parker.
Photographed in Panavision and Metrocolor.
| | |
| --- | --- |
| Cast | |
| Guy Lambert | Elvis Presley |
| Jill Conway | Annette Day |
| Gerald Waverly | John Williams |
| Claire Dunham | Yvonne Romain |
| The Wiere Brothers | Themselves |
| Archie Brown | Chips Rafferty |
| Arthur Babcock | Norman Rossington |
| Georgie | Monty Landis |
| Morley | Michael Murphy |
| Inspector DeGrotte | Leon Askin |
| Iceman | John Alderson |
| Captain Roach | Stanley Adams |
| The G Men | Themselves |

Synopsis

Guy Lambert heads a musical act at a London night club, where one of his fans, Jill Conway, falls in love with him. Gerald Waverly, her guardian, is determined to break up the romance and packs her off to a school in Brussels, Belgium, not realizing that Guy has a singing engagement there. And from the moment they meet again on the boat crossing the English Channel, the lovers find themselves engulfed in an unremitting series of adventures and predicaments as they are followed by a trio of detectives, the Wiere Brothers, each suspecting Guy of jewel smuggling.