Frankie and Johnny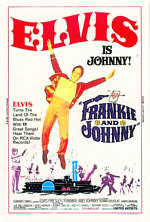 Frankie and Johnny
United Artists

Running time: 87 minutes
Release date: 7/20/66
Songs
"Frankie and Johnny," "Come Along," "Petunia, the Gardener's Daughter," "Chesay," "What Every Woman Lives For," "Look Out, Broadway," "Beginner's Luck," "Down by the Riverside / When The Saints Go Marching In," "Shout It Out," "Hard Luck," "Please Don't Stop Loving Me," "Everybody Come Aboard."
Credits
Produced by Edward Small
Directed by Fred de Cordova
Screenplay by Alex Gottlieb
Story by Nat Perrin
Photographed by Jacques Marquette, A.S.C.
Edited by Grant Whytock
Art Direction by Walter Simonds
Dance Director: Earl Barton
Musical Director: Fred Karger
Makeup by Dan Greenway
Technical Advisor: Colonel Tom Parker
An Edward Small Production
Color by Technicolor
| | |
| --- | --- |
| Cast | |
| Johnny | Elvis Presley |
| Frankie | Donna Douglas |
| Nellie Bly | Nancy Kovack |
| Mitzi | Sue Ane Langdon |
| Braden | Anthony Eisley |
| Cully | Harry Morgan |
| Pog | Audrey Christie |
| Blackie | Robert Strauss |
| Wilbur | Jerome Cowan |
| Earl Barton Dancers | Wilda Taylor, Larri Thomas, Dee Jay Mattis, Judy Chapman |
Synopsis

Frankie loves Johnny but he loves gambling almost as much as he does Frankie. She refuses to marry him until he stops betting and losing every cent he makes. Together they earn a living singing on the Mississippi gambling-showboat owned by Braden.
When a gypsy fortune-teller tells Johnny that he can change his losing streak with a new redhead who's coming into his life, Johnny becomes interested. The redhead turns out to be Braden's old flame, Nellie Bly. Frankie becomes jealous of Nellie Bly and Braden becomes jealous of Johnny, especially when Nellie Bly uses Johnny to try to get Braden to marry her.
Johnny's piano-playing sidekick, Cully, writes a new song, "Frankie and Johnny," that is introduced on the showboat, and it looks like Johnny and Frankie will make it big and finally go to Broadway.
Just as the fortune-teller predicted, Johnny wins a fortune with Nellie Bly beside him, but Frankie angrily throws all the money away. Then Bradens henchman, trying to help his boss, puts a real bullet in the gun that Frankie uses to "kill" Johnny in the finish of the title song.
But a lucky charm that Johnny wears saves his life, and Frankie decides that she loves Johnny no matter how much he gambles.