Fun In Acapulco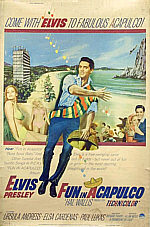 Fun In Acapulco
Paramount

Running time: 98 minutes
Release date: 11/21/63
Songs
"Fun in Acapulco," "Vino, Dinero y Amor," "Mexico," "El Toro," Marguerita," "The Bullfighter Was a Lady," "No Room to Rhumba in a Sports Car," "I Think I'm Gonna Like It Here," "Bossa Nova Baby," "You Can't Say No in Acapulco," "Guadalajara."
Credits
Produced by Hal B. Wallis
Directed by Richard Thorpe
Screenplay by Allan Weiss
Photographed by Daniel L. Fapp A.S.C.
Edited by Warren Low, A.C.E.
Costumes by Edith Head
Art Direction by Hal Pereira and Walter Tyler
Technical Advisor: Colonel Tom Parker
Color by Technicolor
| | |
| --- | --- |
| Cast | |
| Mike Windgren | Elvis Presley |
| Margarita Dauphine | Ursula Andress |
| Dolores Gomez | Elsa Cardenas |
| Maximillian | Paul Lukas |
| Raoul Almeido | Larry Domasin |
| Moreno | Alejandro Rey |
| Jose | Robert Carricart |
| Jamie Harkins | Teri Hope |

Synopsis

Mike Windgren arrives in Acapulco as a sailor on a motor yacht. He is escaping from a tragic incident in the States where, as a trapeze artist, he caused his partner to be seriously injured.
In Acapulco, a young shoe-shine boy, Raoul Almeido, hears Mike sing and volunteers to become his manager. He succeeds in getting Mike hired as a singer in a swank resort hotel.
Mike soon becomes romantically involved with two beautiful women: Dolores Gomez, a lady bullfighter; and Margarita Dauphine, the hotel's social director. In addition to singing every night, Mike has to work as a lifeguard at the hotel swimming pool. The regular lifeguard, Moreno, likes Margarita and resents having Mike around. One day, Mike tries to dive from the high board, but cannot, because he remembers the fateful day when he dropped his circus partner. Moreno notices Mike's fear of heights, and after some sleuthing finds out the true story.
Every night Moreno does a spectacular plunge off the cliffs, 136 feet into the raging surf. One evening, Moreno and Mike have an argument which develops into a fight. Mike wins, but Moreno pretends to be hurt.
Mike decides to overcome his fear of heights and makes the dive himself. As the onlookers applaud him wildly, Mike rushes out of the water to embrace Margarita and proposes they go to Florida.