Harum Scarum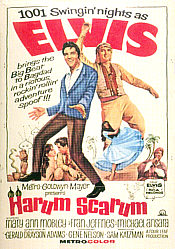 Harum Scarum
Metro-Goldwyn-Mayer

Running time: 95 minutes
Release date: 12/15/65
Songs
"

Harem Holiday," "My Desert Serenade," "Go East-Young Man," "Mirage," "Kismet," "Shake the Tambourine," "Hey Little Girl," "Golden Coins," "So Close, Yet So Far (from Paradise)."
Credits
Produced by Sam Katzman
Directed by Gene Nelson
Written by Gerald Drayson Adams
Photographed by Fred H. Jackman
Edited by Ben Levin
Music Supervised and Conducted by Fred Karger
Choreography by Earl Barton
Art Direction by George W. Davis and H. McClure Capps
Makeup by William Tuttle
Technical Advisor: Colonel Tom Parker
A Four Leaf Production
Color by Metrocolor
| | |
| --- | --- |
| Cast | |
| Johnny Tyronne | Elvis Presley |
| Princess Shalimar | Mary Ann Mobley |
| Aishah | Fran Jeffries |
| Prince Drana | Michael Ansara |
| Zacha | Jay Novello |
| King Toranshad | Philip Reed |
| Sinan | Theo Marcuse |
| Baba | Billy Barty |
| Mohar | Dirk Harvey |
| Juina | Jack Castanzo |
| Captain Heret | Larry Chance |
| Leilah | Barbara Werle |
| Emerald | Brenda Benet |
| Sapphire | Gail Gilmore |
| Amethyst | Wilda Taylor |
| Sari | Vicki Malkin |
| | |

Synopsis

Johnny Tyronne is a motion picture and recording star, who is kidnapped by a band of assassins while on a personal appearance tour of the Middle East. Suddenly he finds himself involved in a plot to murder the king, becomes the rescuing hero of maidens in distress, flings himself into adventure with a gang of pickpockets,and rogues. Johnny also finds time to ward off the advances of tlie predatory Aishah and falls in love with the Princess Shalimar.
It all turns out merrily and melodically well, with Johnny saving the king from assassination, winning the beautiful princess and, at the finish, returns to the U.S.A, with an Oriental dancing troupe which becomes a part of his Las Vegas act.