Kid Galahad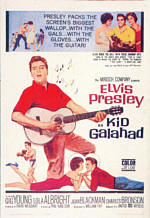 Kid Galahad
United Artists

Running time: 95 minutes
Release date: 7/25/62
Songs
"King of the Whole Wide World," `This Is Living," "Riding the Rainbow," "Home Is Where the Heart Is," "I Got Lucky," "A Whistling Tune."
Credits
Produced by David Weisbart.
Directed by Phil Karlson.
Screenplay by William Fay.
Based on a Story by Francis Wallace.
Photographed by Burnett Guffey, A.S.C.
Edited by Stuart Gilmore.
Art Direction by Cary Odell.
Music by Jeff Alexander.
Technical Advisor: Colonel Tom Parker.
Presented by The Mirisch Company.
Color by DeLuxe.
| | |
| --- | --- |
| Cast | |
| Walter Gulick | Elvis Presley |
| Willy Grogan | Gig Young |
| Dolly Fletcher | Lola Albright |
| Rose Grogan | Joan Blackman |
| Lew Nyack | Charles Bronson |
| Lieberman | Ned Glass |
| Maynard | Robert Emhardt |
| Otto Danzig | David Lewis |
| Joie Shakes | Michael Dante |
| Zimmerman | Judson Pratt |
| Sperling | George Mitchell |
| Marvin | Richard Devon |
Selection of theme CDs

Synopsis


Walter Gulick is a sparring partner at a fighters' training camp owned by Willy Grogan. Walter is not a good boxer, but he can absorb a lot of punishment and has a powerful right hand with which he knocks out Joie Shakes, a professional boxer. Young immediately sees a fortune in Walter and he sorely needs money to pay off a gambling debt to Otto Danzig, a gangster.
Grogan's sister, Rose Grogan, arrives to stay at the camp and falls for Walter. After several fights, all KO's. Walter proposes to Rose and they plan to marry as soon as he can quit the ring and go into business with a local garage owner. Young, however, is violently opposed to their romance.
When Danzig overmatches Walter with one of his own fighters. far out of Walter's class, Willy's girl, Dolly Fletcher, accuses him of overmatching Walter for spite and leaves him. On the eve of the fight, Danzig offers Lew Nyack money for not working in Walter's corner, because he wants to put his own "cut-man" there to make sure Walter's cuts stay open. Nyack refuses and the hoods break his fingers. Arriving before the hoods leave, Grogan attacks them and is joined in a free-for-all by Walter.
The night of the fight, Walter KO's his opponent and his dressing room is the scene of happy confusion. Walter will marry Rose; Willy and Dolly will be married too.