King Creole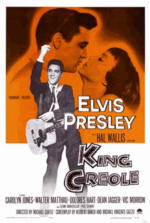 King Creole
Paramount

Running time: 115 minutes
Release date: 6/4/58
Songs
"King Creole," "As Long As I Have You," "Hard Headed Woman," "Trouble," "Dixieland Rock," "Don't Ask Me Why," "Lover Doll," "Crawfish," "Young Dreams," "Steadfast, Loyal and True," "New Orleans."
Credits
Produced by Hal B. Wallis.
Directed by Michael Curtiz.
Associate Producer: Paul Nathan.
Screenplay by Herbert Baker and
Michael Vincente Gazzo.
Based on the Novel A Stone for Danny Fisher by Harold Robbins.
Photographed by Russell Harlan, A.S.C.
Edited by Warren Low, A.C.E.
Art Direction by Hal Pereira and Joseph MacMillan Johnson.
Special Photographic Effects by John P. Fulton, A.S.C.
Process Photography by Farciot Edouart, A.S.C.
Costumes by Edith Head.
Makeup by Wally Westmore.
Musical Numbers Staged by Charles O'Curran.
Music Adapted and Scored by Walter Scharf.
Vocal Accompaniment by The Jordanaires.
Assistant Director: D. Michael Moore.
Technical Advisor: Colonel Tom Parker.

| | |
| --- | --- |
| Cast | |
| Danny Fisher | Elvis Presley |
| Ronnie | Carolyn Jones |
| Nellie | Dolores Hart |
| Mr. Fisher | Dean Jagger |
| Maxie Fields | Walter Matthau |
| Mimi | Jan Shepard |
| Charlie LeGrand | Paul Stewart |
| "Forty" Nina | Liliane Montevecchi |
| Shark | Vic Morrow |
Synopsis

Danny works as a busboy at the Blue Shade, a cheap nightclub on Bourbon Street in New Orleans' French Quarter. There is an all-night drinking party still in progress, and after being forced to sing a song, Danny rescues Ronnie from a pawing hoodlum. Ronnie, property of racketeer Maxie Fields, wants to break away but doesn't dare.
Danny, late for school, gets into a fight with classmates who see Ronnie kiss him goodbye, is told by the principal that he will not graduate. In an alley outside he is jumped by young hoodlums led by Shark, brother of the boy Danny beat up. Despite the odds, Danny wins the fight, and the young thugs invite him to join their gang. Danny refuses.
Back home, Danny's father announces he has a new job in a drugstore, and begs the boy to go back to school full time, but Danny refuses. Instead, he joins the young thugs led by Shark, acting as a decoy by singing while they rob a five-and-dime store. Before leaving, Danny makes a date with Nellie, who works there.
That night, Danny is working at the Blue Shade when Ronnie walks in with Maxie Fields. Danny greets her, but to allay Maxie Fields' suspicions she pretends she doesn't know him, and says she heard him sing only once. Maxie Fields challenges Danny to sing, which he does, and is promptly offered a singing job by Charlie LeGrand, owner of the King Creole nightclub.
Danny defies his father and accepts the job at the club, where he is a big hit nightly. Though he dates the marriage-minded Nellie, he and Ronnie have a strong attraction to each other, but she fears Maxie Fields too much to give in to it. Maxie Fields brazenly uses Ronnie to get Danny to quit the King Creole and go to work for him, but Ronnie tips off Danny and begs him not to get involved with Maxie Fields. When Danny refuses to sing for Maxie Fields, the racketeer calls in Shark and orders him to get something big on Danny. The "something big" involves a hold-up implicating Danny and landing his father in the hospital.
In a rage Danny gives Maxie Fields a terrible beating, which sets every hood in town on his trail. After a showdown fight with Shark, Danny is taken to a country hideout by Ronnie and nursed back to health. But Maxie Fields tracks them down, kills Ronnie and is himself killed by one of his own gunmen, whom Danny had befriended. Danny returns to the King Creole, to Nellie and his family.
Selection of theme CDs