Kissin' Cousins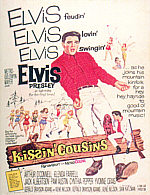 ---
Kissin' Cousins
Metro-Goldwyn-Mayer

Running time: 96 minutes
Release date: 3/6/64
Songs
"Kissin' Cousins," "One Boy, Two Little Girls," "There's Gold in the Mountains," "Catchin' On Fast," "Barefoot Ballad," "Once Is Enough," "Smoky Mountain Boy," "Tender Feeling."
Credits
Produced by Sam Katzman
Directed by Gene Nelson
Screenplay by Gerald Drayson
Adams and Gene Nelson
Story by Gerald Drayson Adams
Photographed by Ellis W. Carter, A.S.C.
Edited by Ben Lewis
Music Supervised and Conducted by Fred Karger
Choreography by Hal Belfer
Art Direction by George W. Davis and Eddie Imazu
Makeup by William Tuttle
Assistant Director: Eli Dunn
Technical Advisor: Colonel Tom Parker.
A Four Leaf Production
Photographed in Panavision and Metrocolor
Cast
Josh Morgan
Jodie Tatum
}
Elvis Presley
Pappy Tatum
Arthur O'Connell
Ma Tatum
Glenda Farrell
Capt. Robert Salbo
Jack Alvertson
Selena Tatum
Pam Austin
Midge
Cynthia Pepper
Azalea Tatum
Yvonne Craig
General Donford
Donald Woods
Sgt. Bailey
Tommy Farrell
Trudy
Beverly Powers
Dixie
Hortense Petra
General's Aide
Robert Stone

Synopsis

Josh Morgan is an Air Force officer tries to persuade a highly independent hillbilly family to sell their land to the government for use as a missile site. The Tatum family don't want any part of the government snooping around their mountain and interfering with their moonshine-making activities.

Josh Morgan romances Azalea Tatum, and Jodie Tatum romances Midge, a WAC. After a half-dozen songs and several dance numbers, everything turns out for the best: the government gets the mountain and Josh and Jodie gets the girls.