Paradise - Hawaiian Style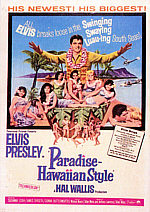 Paradise - Hawaiian Style
Paramount

Running time: 91 minutes
Release date: 6/8/66
Songs
"Paradise, Hawaiian Style," "House of Sand," "Queenie Wahine's Papaya," "Scratch My Back," "Drums of the Islands," "It's a Dog's Life," "Datin'," "Stop Where You Are," "

This Is My Heaven."
Credits
Produced by Hal Wallis
Associate Producer: Paul Nathan
Directed by Michael Moore
Screenplay by Allan Weiss and Anthony Lawrence
From an Original Story by Allan Weiss
Photographed by W. Wallace Kelley, A.S.C.
Edited by Warren Low, A.C.E.
Background Music by Joseph J. Lilley
Choreography by Jack Regas
Costumes by Edith Head
Art Direction by Hal Pereira and Walter Tyler
Technical Advisor: Colonel Tom Parker
Color by Technicolor
| | |
| --- | --- |
| Cast | |
| Rick Richards | Elvis Presley |
| Judy Hudson | Suzanne Leigh |
| Danny Kohana | James Shigeta |
| Jan Kohana | Donna Butterworth |
| Lani | Marianna Hill |
| Pua | Irene Tsu |
| Lehua | Linda Wong |
| Joanna | Julie Parrish |
| Betty Kohana | Jan Shepard |
| Donald Belden | John Doucette |
| Moki | Philip Ahn |
| Mr. Cubberson | Grady Sutton |
| Andy Lowell | Don Collier |
| Mrs. Barrington | Doris Packer |
| Mrs. Belden | Mary Treen |
| Peggy Holdren | Gigi Verone |
| | |

Synopsis

Rick Richards and his buddy Danny Kohana start a helicopter charter service in Hawaii. Rick has three gorgeous girls - Lehua, Lani, Joanna - steering customers to his charter service, and business is so good Rick hires Judy Hudson as a secretary.
While taking a girlfriend for a ride in his helicopter, Rick loses control and doesn't regain it till the careening chopper has forced an automobile into a ditch. The driver of the car is Donald Belden of the Federal Aviation Agency and Rick is grounded till further notice.
Rick finds that Danny Kohana and his daughter Jan Kohana had a crash landing, and Rick flies to the rescue. The newspapers have reported the rescue, and the aviation board may cancel Rick's flying license permanently.
Rick goes to see Donald Belden and explains everything, and the FAA agent assures him that because of the mitigating circumstances of the rescue he will not lose his license.