Spinout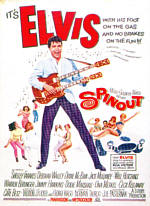 Spinout
United Artists

Running time: 95 minutes
Release date: 12/14/66
Songs
"Spinout," "I'll Be Back," "All That I Am," "Am I Ready," "Stop, Look And Listen, "Adam And Evil", "Never Say Yes," "Beach Shack," "Smorgasbord."
Credits
Produced by Joe Pasternak
Directed by Norman Taurog
Written by Theodore J. Flicker and George Kirgo
Photographed by Daniel L. Fapp, A.S.C.
Edited by Rita Roland
Music by George Stoll
Musical Numbers Staged by Jack Baker
Vocal backgrounds by The Jordanaires
Art Direction by George W. Davis and Edward Carfagno
Makeup by William Tuttle
Associate Producer: Hank Moonjean
Technical Advisor: Colonel Tom Parker
A Joe Pasternak Production
A Euterpe Picture
Photographed in Panavision and Metrocolor
| | |
| --- | --- |
| Cast | |
| Mike McCoy | Elvis Presley |
| Cynthia Foxhugh | Shelley Fabares |
| Diane St. Clair | Diane McBain |
| Les | Deborah Walley |
| Susan | Dodie Marshall |
| Curly | Jack Mullaney |
| Lt. Tracy Richards | Will Hutchins |
| Philip Short | Warren Berlinger |
| Larry | Jimmy Hawkins |
| Howard Foxhugh | Carl Betz |
| Bernard Ranley | Cecil Kellaway |
| Violet Ranley | Una Merkel |
| Blodgett | Frederic Warlock |
| Harry | Dave Barry |

Synopsis

Four girls chase after Mike McCoy. Cynthia Foxhugh is the pert, spoiled daughter of a millionaire, who always gets what she wants, and she wants Mike, leader of a touring combo. Diane St. Clair is a best-selling author, researching her next book, The Perfect American Male, and when she meets Mike, she decides she has found her subject. Les is the cute drummer in Mike's band, whose heart is drumming for her boss, while Susan ends up as the latest beauty to try to corral Mike into matrimony.
When not being chased by girls, Mike sings and races over mountain roads. After a few humorous situations, Mike manages to eat his cake and have it, so to speak. He marries all four girls.