Tickle Me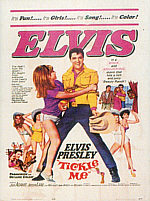 Tickle Me
Allied Artists

Running time: 96 minutes
Release date: 6/15/65
Songs
"Night Rider," "I'm Yours," "I Feel I've Known You Forever," "Dirty Dirty Feeling," "Put the Blame On Me," "Easy Question," "

(It's a) Long Lonely Highway," "It Feels So Right,"
"Slowly But Surely."
Credits
Produced by Ben Schwalb
Directed by Norman Taurog
Story and Screenplay by Elwood Ullman and Edward Bernds
Photographed by Loyal Griggs
Edited by Archie Marshek
Music Director: Walter Scharf
Art Direction by Arthur Lonergan
Choreography by David Winters
Makeup by Frank Westmore and Bill Reynolds
Assistant Director: Artie Jacobson
Technical Advisor: Colonel Tom Parker
Photographed in Panavision and DeLuxe Color
| | |
| --- | --- |
| Cast | |
| Lonnie Beale | Elvis Presley |
| Pam Merritt | Jocelyn Lane |
| Vera Radford | Julie Adams |
| Stanley Potter | Jack Mullaney |
| Estelle Penfield | Merry Anders |
| Hilda | Connie Gilchrist |
| Brad Bentley | Edward Faulkner |
| Deputy Sturdivant | Bill Williams |
| Henry | Louis Elias |
| Adolph | John Dennis |
| Janet | Laurie Burton |
| Clair Kinnamon | Linda Rogers |
| Sibyl | Ann Morell |
| Ronnie | Lilyan Chauvin |
| Evelyn | Jean Ingram |
| Mildred | Francine York |
| Pat | Eve Bruce |

Synopsis

Lonnie Beale is a singing rodeo rider who drifts into an expensive dude ranch and beauty spa patronized by wealthy glamour girls. The owner, Vera Radford, hires Lonnie as a handyman. Pam Merritt has a letter from her late grandfather directing her to a cache of gold in the ghost town of Silverado. The sheriff, Deputy Sturdivant, and his gang learn of the letter and plot to take it away from Pam. Lonnie comes to her rescue, battling the gang in a free-for-all in the ghost town. After subduing the crooks, Lonnie and Pam find the gold and decide to get married.