It Happend At The Worldsfair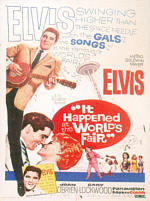 It Happened at the World's Fair
Metro-Goldwyn-Mayer

Running time: 105 minutes
Release date: 4/3/63
Songs
"I'm Falling in Love Tonight," "Relax," "How Would You Like to Be," "Beyond the Bend," "One Broken Heart for Sale," "Cotton Candy Land," "A World of Our Own," "Take Me to the Fair," "They Remind Me Too Much of You," "Happy Ending."
Credits
Directed by Norman Taurog.
Written by Si Rose and Seaman Jacobs.
Photographed by Joseph Ruttenberg, A.S.C.
Edited by Fredric Steinkamp.
Music Score by Leith Stevens.
Art Direction by George W. Davis and Preston Ames.
Musical Numbers Staged by Jack Baker.
Makeup by William Tuttle.
Vocal Backgrounds by The Jordanaires and The Mello Men.
Asistant Director: Al Jennings.
Technical Advisor: Colonel Tom Parker.
A Ted Richmond Production.
Photographed in Panavision and Metrocolor.
| | |
| --- | --- |
| Cast | |
| Mike Edwards | Elvis Presley |
| Diane Warren | Joan O'Brien |
| Danny Burke | Gary Lockwood |
| Sue-Lin | Vicky Tiu |
| Vince Bradley | H. M. Wynant |
| Miss Steuben | Edith Atwater |
| Barney Thatcher | Guy Raymond |
| Miss Ettinger | Dorothy Green |
| Walter Ling | Kam Tong |
| Dorothy Johnson | Yvonne Craig |

Synopsis

Mike Edwards, a bush pilot, and his sidekick Danny Burke, hitchhike to Seattle to find a job in order to reclaim their plane, which a sheriff has attached as security.
Mike finds himself involved with two "dates": the first with Sue-Lin, little daughter of a Chinese farmer whom he takes on a tour of the Seattle World's Fair; the second with Diane Warren, attractive nurse at the dispensary.
A series of complications takes place when Mike unexpectedly finds himself in the role of Sue-Lin's guardian and later comes to believe that Diane has given him a doublecross. But all comes out happily in the climax in which the two pilots narrowly escape being made the victims of a smuggling deal.