---
Elvis un homme toute la musique vol. 2 1968 - 1977


| | |
| --- | --- |
| Title: | Elvis un homme, toute la musique vol. 2 |
| Catalog number: | ISBN 978-2-84167-829-7 |
| Author: | Jean-Marie Pouzenc - preface: CÚline Dion |
| Pages: | 240 - all in French |
| Format: | 23 x 30,5 x 5 cm - hardcover |
| Year: | May 2013 |
| CD playing time: | 79:49 |
| UPC/EAN: | 9782841678297 |
| Matrix number: | IFPI LK 97 Sony Music 88883705922 2100004004580 takt IFPI 9R88 |



ELVIS un homme, toute la musique - ELVIS the man and all of his music

In these two unique volumes Elvis' entire production of nearly 900 songs from 1953 to 1977 are traced and analyzed in chronological
order in order to follow its evolution. Also included are contributions by various stakeholders such as writers, composers, performers, producers, musicians and others. Likewise analyzed are the many influences, milestones and linguistic innovations.
How did these songs come to life?
How have they been interpreted and received?
What have they become?
Elvis is 'the man of all records', the first of all the rankings, the player with the most awards: gold, platinum ...
Even today, it remains unbeatable.
As CÚline Dion wrote in her introduction (vol. 2): '35 years later, he is still alive'.





The books

could

be purchased individually

, but also

together

in a cardboard

box.





Back of the cardboard box



In this package:

2 reference works (more than 10 years of research) comprising
a total of 480 pages

More than 1000 photos and documents rare and unreleased.
2 CDs with a total of 53 songs - (playing time 2:30), pressed exclusively for these books by Sony Music

UPC/EAN: 9782841678464

See also: Elvis un homme toute la musique vol. 1 1953 - 1968
CD: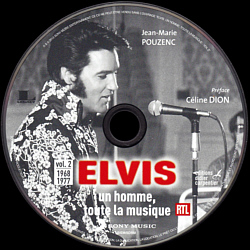 Matrix number: Sony Music 88883705922 2100004004580 takt IFPI LK 97 IFPI 9R88
01
02
03
04
05
06
07
08
09
10
11
12
13
14
15
16
17
18
19
20
21
22
23
24
25
26
That's When Your Heartaches Begin (Acetate, 1953)
Good Rockin' Tonight
I Forgot To Remember To Forget
Paralyzed
One Night Of Sin
King Creole (take 18)
Danny
Girl Of My Best Friend
Judy
Girls! Girls! Girls
You're The Boss (with Ann-Magret)
I'm A Roustabout
This Is My Heaven
If The Lord Wasn't Walking by My Side
You'll Never Walk Alone (take 1)
Stay Away
Long Black Limousine
I Washed My Hands In Muddy Water
It's Only Love
Merry Christmas Baby (unedited version)
Separate Ways
She Wears My Ring
Softly As I Leave You (live - December 13, 1975 Dinner Show)
Green, Green Gras Of Home
Solitaire
Little Darlin (live - April 24, 1977)
02:47
02:13
02:30
02:24
02:36
02:19
01:52
02:23
02:12
02:33
02:46
02:08
02:35
01:38
05:35
02:23
03:42
04:57
02:38
08:30
02:36
03:22
03:01
03:36
04:41
01:53
US-SE6-00-72539
US-A82-04-00073
US-RC1-03-01058
US-RC1-96-06721
US-A82-08-00707
US-RC1-58-05052
US-RC1-97-08250
US-RC1-60-05320
US-RC1-93-05988
US-RC1-92-05703
US-RC1-63-07033
US-RC1-03-01085
US-RC1-65-00408
US-RC1-66-00758
US-RC1-04-00696
US-RC1-04-00698
US-RC1-69-08258
US-RC1-98-08630
US-RC1-71-01874
US-RC1-13-00306
US-RC1-72-01883
US-RC1-99-00426
US-RC1-75-06992
US-RC1-02-01601
US-RC1-76-07762
US-RC1-99-00432