Digipack


Released 2012. © Flashlight Records
Catalog number FR201211

UPC/EAN: 8718247290277

The barcode is registered for Elvis Corner Utrecht, NL

Press note;
Elvis Presley, crowned as the KING OF ROCK & ROLL in the '50s, would become the KING OF THE MOVIES in the early '60s.
Some very succesful ''musicals'' in the '50s led Elvis to sign some very lucrative movie contracts.
Celluloid Rock features rare and unreleased versions of many of the songs recorded for these movies. "Celluloid Rock: Love Me Tender" even contains a bonus section featuring the "Can't Help Falling In Love" session.
Hear Elvis get hold of this true classic in many unreleased takes. Listen to the King Of Rock & Roll in a way you haven't heard him before. It's true listening pleasure.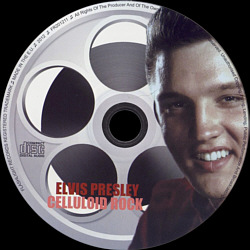 01
02
03
04
05
06
07
08
09
10
11
12
13
14
15
16
17
18
19


20
21
22
23
24
25
G.I. Blues
Whats She Really Like (take 19)
Summer Kisses Winter Tears (take 23)
Mean Woman Blues (movie version)
We're Gonna Move
Home Is Where The Heart Is (take 12)
Hawaiian Wedding Song (master take)
Island Of Love (take 11 , 12 & master)
Poor Boy
Big Boots (slow version take 1)
Treat Me Nice
Love Me Tender
No More (take 3, LFS)
Frankfurt Special (fast version, Take 8)
Didja Ever
Slicin' Sand (take 18 & master take 19)
Doin' The Best I Can (take 13)
Beach Boy Blues (take 3, movie master)
Ito Eats (takes 3, 6,7,8 & master take 9)

Bonus Section
Can't Help Falling In Love (takes 1, 2, 3, 4 FS)
Can't Help Falling In Love (take 5 LFS)
Can't Help Falling In Love (takes 6, & 7 FS)
Can't Help Falling In Love (take 8 LFS)
Can't Help Falling In Love (take 9, complete version)
Can't Help Falling In Love (takes 10, 11 & 12 FS)
02:43
02:26
02:30
02:33
02:35
03:00
03:01
03:37
02:16
01:58
02:16
02:44
01:24
02:46
02:43
01:54
03:21
02:09
03:13


01:47
02:10
01:40
01:42
02:18
01:45