Released 2022. Compilation ℗ © 2022 Radio Recorders
Catalog number RR0002

Radio Recorders is a registered word and figurative mark for Elvis Corner Utrecht, NL (December 7, 2020)

UPC/EAN: 8718247290413

Press note;
In March 1961 Elvis returned to the now legendary Radio Recorders studio to record an iconic soundtrack for his new Paramount Pictures soundtrack "Blue Hawaii".
In between "G.I. Blues" and "Blue Hawaii" Elvis recorded the soundtrack for "Flaming Star" and the highly acclaimed gospel album "His Hand In Mine".
Elvis was about to record some signature songs which would follow him through the rest of his career.
"Can't Help Falling In Love" became the closing theme during his entire live career. "Ku-U-I-Po", "Blue Hawaii" and "Hawaiian Wedding Song" were even used in his legendary "Aloha From Hawaii" special.
These tracks were recorded after the show was finished and it was inserted in the program. "Hawaiian Wedding Song" song would also find it's way to the setlist during his 1974-1977 live shows.

All recordings on this Disc have been carefully restored & remastered. They never sounded better, it's like you are right there in the studio.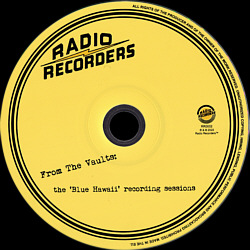 01
02
03
04
05
06
07
08
09
10
11
12
13
14
15
16
17
18
19
20
21
22
23
24
25
Blue Hawaii (FO take 7 - mono master)
Almost Always True (MO take 1 & 8 - mono master)
Beach Boy Blues (stereo movie master)
No More ((DO take 3, 5, & 9)
Rock-A-Hula Baby (TO take 4 & 5 - mono master)
Ku-U-I-Po (CO take 8 & 9 -mono master)
Slicin' Sand (EO take 10)
Aloha Oe (stereo master)
Hawaiian Sunset (AO - stereo master)
Can't Help Falling In Love (RO - stereo movie master)
Steppin' Out Of Line (LO take 1, 2, 3 - movie version, & 17 - mono master / record version)
Island Of Love (KO take 3, 5, 10, 11, 12 & 13 - mono master)
Ito Eats (HO tag for movie take 1+ (GO take 3, 7, 8 & 9 - mono master)
Slicin' Sand (EO, take 17)
Can't Help Falling In Love (RO, take 4 & 5)
Beach Boy Blues (SO take 1 & 2 - mono master / record version)
Aloha Oe (BO take 4 & take 3 - section 2)
Moonlight Swim (NO stereo master)
Hawaiian Wedding Song (JO take 2 - mono master)
Slicin' Sand (EO take 18 & 19 - mono master)
Can't Help Falling In Love (RO take 9 - movie version)
Aloha-Oe (BO take 2 - section 2)
Can't Help Falling In Love (RO - movie version take 1 – 8)
Can't Help Falling In Love (RO - movie version take 10-12)
Can't Help Falling In Love (RO - movie version take 18 & record version 27, 28 & 29 - stereo master)
02:47
03:43
01:59
04:58
03:15
03:41
01:32
01:55
02:35
01:55
03:01
05:38
04:00
01:45
02:37
03:02
01:14
02:20
03:04
01:56
02:19
01:00
07:16
01:47
04:09