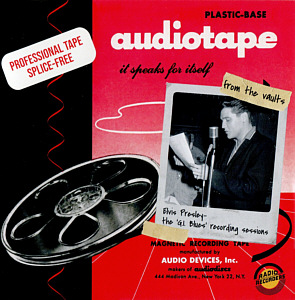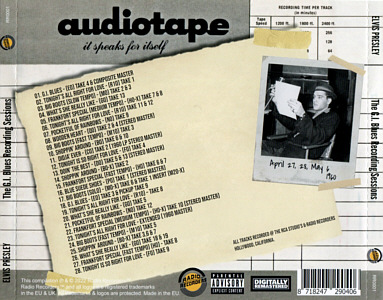 Released 2022. Compilation ℗ © 2022 Radio Recorders
Catalog number RR0001

Radio Recorders is a registered word and figurative mark for Elvis Corner Utrecht, NL (December 7, 2020)

UPC/EAN: 8718247290406

Press note;
In April 1960 Elvis stepped into the Radio Recorders studio in Hollywood, California, to record the soundtrack for his latest movie G.I. Blues.
The sessions resulted in some fan favorites like "Wooden Heart", "Tonight's All Right For Love" & "Shoppin' Around".
Radio Recorders brings you a fully packed CD containing 28 swinging tracks from the sessions.
All recordings are carefully restored and remastered. They never sounded better, it's like you are right there in the studio.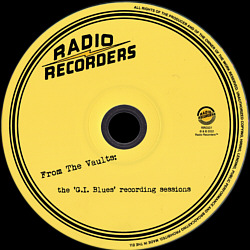 01
02
03
04
05
06
07
08
09
10
11
12
13
14
15
16
17
18
19
20
21
22
23
24
25
26
27
28
G.I. Blues (EO take 4 & composite master)
Tonight's All Right For Love (R1O take 1)
Big Boots (slow tempo, MO take 2 & 3)
What's She Really Like (GO take 13)
Frankfort Special (medium tempo, HO-X take 7 & 8)
Tonight's All Right For Love (R10 take 11 & 12)
Pocketful Of Rainbows (NO take 9)
Wooden Heart (QO take 2 & 4 - stereo master)
Big Boots (fast tempo, M1O take 3)
Shoppin' Around (BO take 6 & 10)
Didja' Ever (CO take 2 - 1960 lp stereo master)
Tonight Is So Right For Love (FO take 4)
Doin' The Best (DO take 5 & 13 - stereo master)
Shoppin' Around (BO-X take 2)
Frankfort Special (fast tempo, HO take 6 & 7)
Blue Suede Shoes (PO take 1 -stereo master)
Big Boots (SOLO) (MO-X take 6 & take 1 insert M2O-X)
G.I. Blues (EO take 3 & pickup take 9)
Tonight's All Right For Love (R1O take 8)
What's She Really Like (GO take 5)
Pocketful Of Rainbows (NO take 12)
Frankfort Special (medium tempo, HO-X take 10 - stereo master)
Tonight's All Right For Love (extended 1960 master)
Big Boots (fast tempo, M1O take 5)
Shoppin' Around (BO-X take 3,6 & 7)
What's She Really Like (GO take 18 & 19)
Frankfort Special (fast tempo, HO take 8)
Tonight Is So Right For Love (FO take 9)
03:36
01:30
02:10
02:31
03:27
01:34
02:58
02:27
01:47
02:44
02:54
02:45
03:54
02:33
02:55
02:14
02:16
02:46
01:27
02:39
02:42
03:12
02:14
01:28
03:37
02:55
02:30
02:26