CD comes in a cardboard sleeve with inner sleeve with song listings and notes in English and French.
Compiled for the "Elvis My Happiness" fanclub. Manufactured and distributed by VPI / Culture Factory (LMLR), France.
Not a typical fanclub CD. This title was not only available for members of the club, but sold for commercial reasons.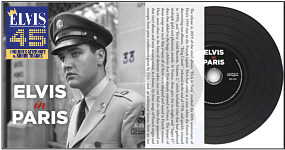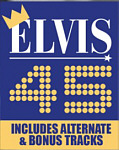 Announcement: "Elvis In Paris" with only alternate takes directed by Jean-Marie Pouzenc,
This album is fully remastered & offered on CD Vinyl replica.

The release in 2019 of the vinyl album "Elvis In Paris" marked the 60th anniversary of Elvis's 1959 visit to the French capital. Elvis had come at a time when the French were discovering two albums, "King Creole" (released at the end of 1958, and quickly reissued in 1959), and "Elvis' Gold Records, Volume 2," which included titles that had gathered multiple gold and platinum awards. In France, these gave rise to singles and "Super 45" discs that added to the huge celebrity that Elvis already enjoyed in France. The impact of those songs was such that almost all of them were adapted and issued in French versions. Here, most often in the form of alternate takes, you can find the titles that appeared on that vinyl album and were accornpanied, as a bonus, by three songs of French origin and excerpts from press conferences given by Elvis; and, an additional bonus, there are ten new alternate takes from the period. French fans have never forgotten that Paris was the only European capital that Elvis chose to visit... and he did so three times!