CD comes in a cardboard sleeve with inner sleeve with song listings and notes. Reprint of the 2021 "Elvis My Happiness" LP release with additional tracks.
Compiled for the "Elvis My Happiness" fanclub. Manufactured and distributed by VPI / Culture Fctory (LMLR), France. CD pressed by SNA (Societé Nouvelle Areacem)
Not a typical fanclub CD. This title was not only available for members of the club, but sold for commercial reasons.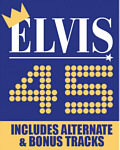 Announcement: For the 45th anniversary of the King's death, find "Elvis Sings The Mad Professor" with only alternate tracks
This album has been entirely remastered & proposed on CD vinyl replica.
Completed with Ben Weisman titles missing from the vinyl LP of the same title released in 2021, and also with takes of different versions, like "Don't Leave Me Now" and "Steppin' Out of Line," this is a brand-new concept-album devoted to the composer who wrote more songs recorded by the King than any other songwriter! Ben Weisman actually wrote only 54 songs for Elvis. Nobody knows why, but "Party," "Rubberneckin'" and "There's So Much World to See" are still listed even though Weisman didn't write them.