CD comes in a cardboard sleeve with inner sleeve with song listings and notes.
Note:
Songs 02 and 03 are in a different order than written on the back cover and on insert sleeve.
Compiled by Jean-Marie Pouzenc for the "Elvis My Happiness" fanclub. Manufactured and distributed by VPI / Culture Factory (LMLR), France.
Not a typical fanclub CD. This title was not only available for members of the club, but sold for commercial reasons.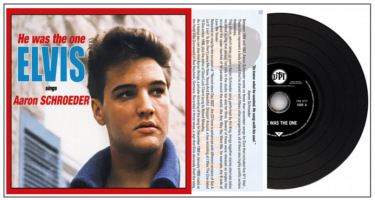 Announcement: Between 1956 and 1962 Aaron Schroeder wrote no fewer than seventeen songs for Elvis… and five of them went to N° 1!
His body of work was sometimes co-signed by Schroeder with around fifteen others, most of them very prolific songwriters themselves.
This album brings together mainly alternate takes of songs recorded over the above period, and they are taken from sessions for studio recordings or for films.
A great number of them were released as singles, and they occupied the upper reaches of sales charts in countries across the world, like Any Way You Want Me for example, which was the B-side of Love Me Tender.