CD comes in a cardboard sleeve with inner sleeve with song listings and notes. Reprint of the 2021 "Elvis My Happiness" LP release with additional tracks.
Compiled for the "Elvis My Happiness" fanclub. Manufactured and distributed by VPI / Culture Factory (LMLR), France. CD pressed by SNA (Societť Nouvelle Areacem)
Not a typical fanclub CD. This title was not only available for members of the club, but sold for commercial reasons.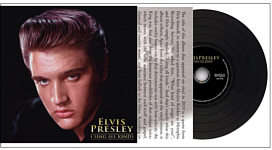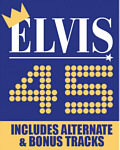 Announcement: For the 45th anniversary of the King's death, find "I Sing All Kinds" with only alternate tracks directed byJean-Marie Pouzenc.
This album has been entirely remastered & proposed on CD vinyl replica.
The title of this album, released on vinyl in 2019, was borrowed from Elvis himself who answered the question: What kind of singer are you? Simply declared: I sing of everything.
And this is exactly what this album reflects, which includes, in addition to the vinyl titles,
12 bonuses which show, at the same time, how eclectic the King was, but above all the immense possibilities of his voice which passes with the same ease. from rock'n'roll to gospel, country, classical, ballad, blues.