CD comes in a fold-out cardboard sleeve with inner sleeve with song listings and notes in English and French.
Compiled for the "Elvis My Happiness" fanclub. Manufactured and distributed by VPI / Culture Factory (LMLR), France.
Not a typical fanclub CD. This title was not only available for members of the club, but sold for commercial reasons.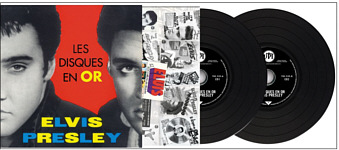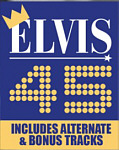 Announcement: FOR THE 45th ANNIVERSARY OF THE DISPARITION OF KING, DISCUSSIONS "THE DISCES OR" WITH THAT THE RUNDRED OF THE APPEAN MARIE, COT ALBUM IS ESTABLISHED RESMASTERED AND PROPOSED IN CD VINYL REPLICA The box Box The discs in gold, It included, among other things identical, vinyl, the first three French Gold Records albums by offering alternative whenever catches possible. They can be found here supplemented, with bonuses from the box set, The other sides - Elvis Worldwide Gold Award Hits Vol. 2, released in August 1971 and which included singles or EPs that also reached the top.