CD comes in a fold-out cardboard sleeve with inner sleeve with song listings and notes. Reprint of the 2016 "Elvis My Happiness" LP release with additional tracks.
Compiled for the "Elvis My Happiness" fanclub. Manufactured and distributed by VPI / Culture Fctory (LMLR), France. CD pressed by SNA (Societé Nouvelle Areacem)
Not a typical fanclub CD. This title was not only available for members of the club, but sold for commercial reasons.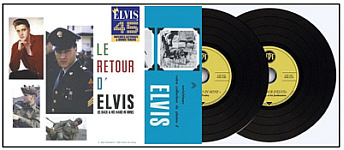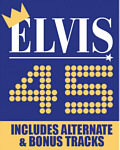 Announcement: For the 45th anniversary of the King's death, find "LE RETOUR D'ELVIS" with only alternate tracks
This album has been entirely remastered & proposed on CD vinyl replica.
The double album "Le retour d'Elvis/His Hand in Mine" released in 2016 had a true concept based on Presley's 1960 return to civilian life.
This time the concept is total since, apart from the original albums, we have as bonus tracks not only all the other titles recorded in the 1960 sessions, but also versions of some of these songs recorded at the Pearl Harbor concert, together with recordings made in Germany in preparation for the King's return. As for "His Hand in Mine," this title is also completed by four gospels recorded in 1957.