CD comes in a cardboard sleeve with inner sleeve with song listings and notes. Reprint of the 2016 "Elvis My Happiness" LP release with additional tracks.
Compiled for the "Elvis My Happiness" fanclub. Manufactured and distributed by VPI / Culture Fctory (LMLR), France. CD pressed by SNA (Societé Nouvelle Areacem)
Not a typical fanclub CD. This title was not only available for members of the club, but sold for commercial reasons.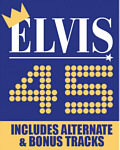 Announcement: For the 45th anniversary of the King's death, find "Something For Everybdy" with only alternate tracks
This album has been entirely remastered & proposed on CD vinyl replica.
In 2016 the label had brought out the album "Something For Everybody" in its original form while proposing only alternate takes.
The concept is extended here with all the songs recorded in 1961, many of which would reach the top of the best-seller lists: "His Latest Flame", "Good Luck Charm"… just like the EP from the film "Follow That Dream".
A real brand-new concept album in this form.