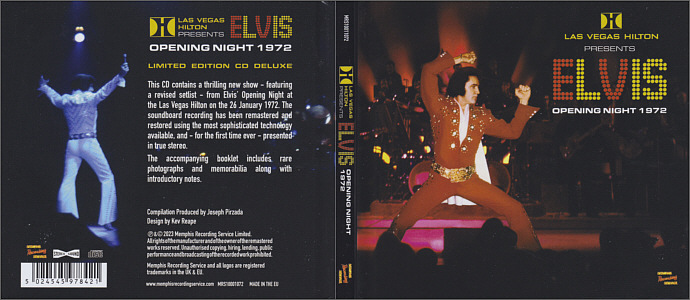 Manufactured and distributed by Memphis Recording Service, 2023.
Catalog number MRS10001072

UPC/EAN: 5024545978421

Recorded January 26, 1972, Opening Show, Las Vegas Hilton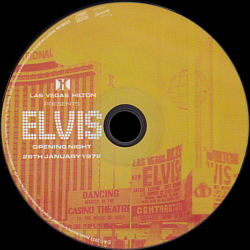 Matrix number: 488908 @ IFPI LW03 IFPI AAHRO
01
02
03
04
05
06
07
08
09
10
11
12
13
14
15
16
17
18
19
20
21

Also Sprach Zarathustra *
See See Rider *
Proud Mary
Never Been to Spain
You Gave Me A Mountain
Until It's Time for You to Go
Polk Salad Annie
Love Me
Little Sister / Get Back
All Shook Up
Teddy Bear / Don't Be Cruel
One Night
Hound Dog
A Big Hunk O' Love
Bridge Over Troubled Water
Lawdy Miss Clawdy
An American Trilogy
Introductions
I'll Remember You
Suspicious Minds
Can't Help Falling in Love / Closing Vamp
01:19
02:51
02:43
03:27
03:47
03:50
03:03
02:55
02:16
01:05
01:48
01:27
02:26
02:13
04:16
02:13
04:41
01:47
02:48
05:35
02:30

* "Also Sprach Zarathustra" and the first part of "See See Rider" are listed as taken from a August 1972 show.
We think the songs are from San Antone / Texas, April 18, 1972, ES (Close Up)

Previously released on several bootleg CDs, for example "Opening Night 1972", "The Talk Of The Town" & "Behind The Curtain".
Partially released also officially on the FTD label "An American Trilogy".
Press note;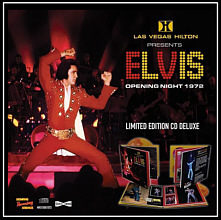 CD contains a thrilling new show - featuring a revised setlist - from Elvis' Opening Night at the Las Vegas Hilton on the 26 January 1972.
The soundboard recording has been remastered and restored using the most sophisticated technology available, and - for the first time ever - presented in true stereo.
The accompanying booklet includes rare photographs and memorabilia along with introductory notes.