Double LP set with attached CD in a cardboard.

This one wasn't made by DAE. It was made by an unknown bootlegger using the good old label Name DAE.
DAE has never released second pressings.

The LPs are available in red and blue vinyl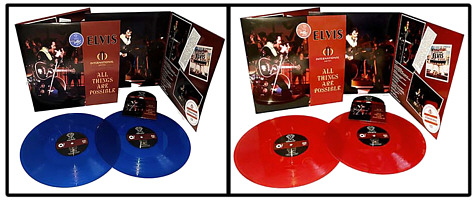 Press note:
DIAMOND ANNIVERSARY goes back to 1971.
ALL THINGS ARE POSSIBLE was the fourth cd release and it is about time it became available on vinyl.
The first four titles : HERE I GO AGAIN, OLD TIMES THEY ARE NOT FORGOTTEN, LET ME TAKE YOU HOME & HOLDING BACK THE YEARS were a complete sell out and were well received by vinyl collectors.

Now ALL THINGS ARE POSSIBLE is available on this deluxe double vinyl album. It mainly contains the January 27, 1971 12.00AM performance. These recordings are among very few known soundboard recordings from 1971.

Now this remarkable show is available on this deluxe vinyl album and it's a beauty! And of course the show is included on cd too. The show is remastered and updated in the best way possible!
Get it while you can and add this awesome DAE product to your collection.