Track Listing:
01
Also Sprach Zarathustra (January 26, OS)
01:30
02
Thatís All Right (January 26, OS)
02:04
03
Mystery Train (January 26, OS)
01:58
04
Only Believe (January 27, MS)
02:49
05
How Great Thou Art (January 27, MS)
02:10
06
Make The World Go Away (January 27, MS)
02:59
07
Itís Now Or Never (January 28, DS)
02:05
08
I Got A Woman (January 28, MS)
02:00
09
You Donít Have To Say You Love Me (January 28, MS)
01:56
10
Sweet Caroline (January 28, MS)
02:35
11
Johnny B.Goode (January 28, MS)
01:35
12
One Night (January 28, MS)
01:21
13
The Wonder Of You (January 28, MS)
01:26
14
Heartbreak Hotel (January 28, MS)
01:32
15
Teddy Bear (January 28, MS)
01:05
16
Snowbird (January 29, DS)
02:47
January 30 - 1971, Dinner Show
17
Also Sprach Zarathustra
01:39
18
Thatís All Right
02:15
19
I Got A Woman
02:36
20
Love Me Tender
03:26
21
There Goes My Everything
02:39
22
You Donít have To Say You Love Me
01:58
23
Youíve Lost That Love Feeling
03:04
24
Polk Salad Annie
03:42
25
Introductions
02:08
26
Also Sprach Zarathustra
01:29
27
Something
03:43
28
How Great Thou Art
02:42
29
Blue Suede Shoes
01:14
30
Little Sister / Get Back
03:52
31
Hound Dog
02:50
32
Suspicious Minds
05:12
33
The Impossible Dream
02:57
34
Closing Vamp
00:21
Notes:
LP (18 tracks) in gatefold paper cover plus bonus CD (32 tracks) and 7inch single (33rpm, 4 tracks)
The CD contains before released soundboard recordings (tracks 1 - 16) and the

previously

unreleased concert from January 30 - 1971, Dinner Show (tracks 17 - 34)


Press note: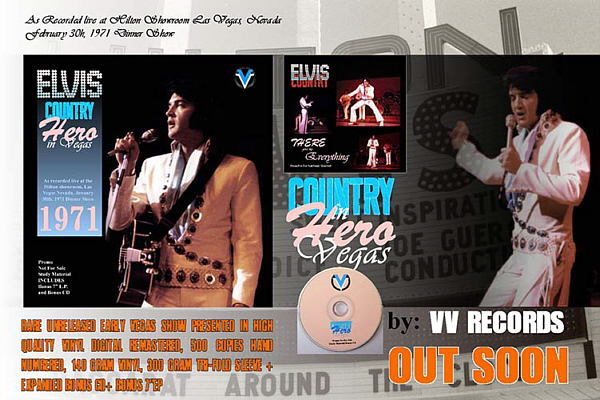 The VV label will release their second CD entitled "Country Hero in Vegas" featuring the unreleased Las Vegas performances on January 30th 1971, dinner show. After the success of the first release We decided: first to improve the product and second, keeping the same formula to give you more.Ö..
Here We present Elvis to the begin of the season .. no surprises in the tracklist with the exception of his latest single There Goes My Everything, but the show is extremely solid and good, the sound is good and powerful using a straight copy of the original source tape, We were able to keep Elvis' vocal power central to the mix whilst at the same time giving a new definition to the supporting musicians and singers.

Elvis' performance on these early season nights is superb as he is still performing to the best of his ability. Although he delivers short shows they are delivered in a very intense, crisp and fresh manner that cannot be denied. Elvis was on stage to have fun and demonstrated this during the older, classic numbers, but songs such as 'Polk Salad Annie', 'You've Lost That Loving Feeling' and 'Sweet Caroline' never sounded better. The season will be remembered for the introduction of the new opening composition 'Also Sprach Zarathustra' which although written by Richard Strauss in 1894 was more closely associated with the Stanley Kubrick film '2001 A Space Odyssey', a recent cinema release. As we now know this thunderous opening would be used until the final concert Elvis performed. The season will also be remembered for the beautiful new closing number ĎThe Impossible Dreamí which Elvis sang with power and feeling giving us proof that Elvis continued to grow as a performer.

The LP 140 VINYL GRAM is a LIMITED HAND NUMBERED 500 COPIES. It comes with an three fold 300 gram high quality GLOSSY sleeve both sides printed, giving an unique view. The sleeve will be accompanied by relevant liner notes and with many photographs of the Elvis NOW suit from the season.

This vinyl will include a bonus CD and 7Ē vinyl EP. In the bonus CD you have the possibility to listen the complete concert + a selection of 16 songs (32 min.)soundboard recording, coming for the previous four days shows. From the opening night January 26 you can have the possibility to listen the evolution of Elvisí performing during the begin of the season, we practically included all the songs no performed in the January 30 DS . In January RCA released what is without doubt the best Elvis album of the 1970ís, Elvis Country. In this season of Elvis performed three songs from the album. From here the EP idea in the matter to give the possibility to use the three songs performed to create a special Elvis Country EP. The EP comes with four songs and two fold sleeve both printed.

We hope you can enjoy this second product in the way to give life to more of his kind in next future.

LP January 30 DS unreleased live audience recording
01.2001 Theme 02.Thatís All Right 03.I Got Woman 04. Love Me Tender 05.There Goes My Everything 06.You Donít Have To Say You Love Me 07.Youíve Lost Than Loving Feeling 08.Polk Salad Annie 09.Introduction 10.2001 Theme 11.Something 12.How Great Thou Art 13.Blue Suede Shoes 14.Little Sister/Get Back 15.Hound Dog 16.Suspicious Minds 17.The Impossible Dream 18.Closing Vamp

BONUS CD :
01. 2001 Theme 02.Thatís All Right 03. Mystery Train (January 26, opening night)
04. Only Believe 05. How Great Thou Art 06.Make The world Go Away (January 27, Midnight Show)
07.Itís Now Or Never (January 28 Dinner Show) 08.I Got A Woman 09.You Donít have To Say You Love Me 10.Sweet Caroline 11.Johnny B.Goode 12.One Night 13. The Wonder Of You 14. Heartbreak Hotel 15. Teddy Bear (January 28, Midnight Show)
16.Snowbird (January 29, Dinner Show)
17.2001 Theme 18.Thatís All Right 19.I Got A Woman 20.Love Me Tender 21.There Goes My Everything 22.You Donít have To Say You Love Me 23.Youíve Lost That Love Feeling 24.Polk Salad Annie 25.Introductions 26.2001 Theme 27.Something 28.How Great Thou Art 29.Blue Suede Shoes 30.Little Sister/Get Back 31.Hound Dog 32.Suspicious Minds 33.The Impossible Dream 34.Closing Vamp (January 30, Dinner Show)

BONUS EP
01A. Make The Wold Gone Away Jan.26 opening night 02A. There Goes My Everything Jan 27 midnight show
01B. Snowbird Jan. 29 Dinner Show 02B. There Goes My Everything Jan.30 dinner show