Notes: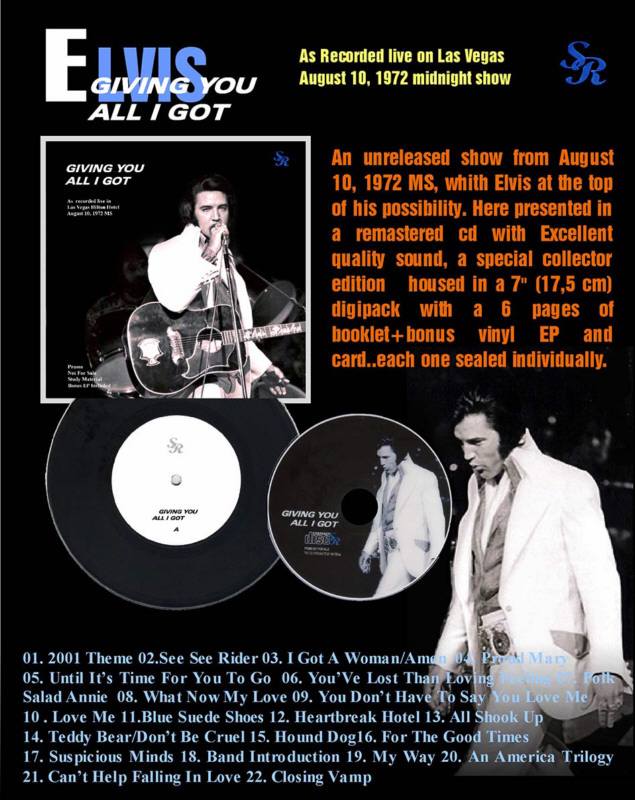 Press note:
The forthcoming release from the "SR" label is titled "GIVING YOU ALL I GOT " and will feature the unreleased show from Las Vegas August 10, 1972 MS. This will be the second volume dedicated on August 1972 Vegas season and it will see the light at the begin of September. As everybody knows SR concentrates it's work on early 70's live period of Elvis' activity, trying to produce always unreleased shows with Elvis at the top of his possibilities. With the new release, we are proud to present the complete show from August 10th midnight show, a great show from one of the best Las Vegas season,... Elvis' love and joy in the singing is clear in this tape and we are glad to give you the opportunity to listen to it. After an incredible June tour with the four historical New York performances…Elvis is back in Las Vegas for the classic Summer Season…. The seventh season presents maybe for the last time Elvis at his best. Elvis still able to delivery a show in continue development with a very large range of musical tastes delivered at the best of the man possibilities. The show here presented consist is a collection of songs of quality which was the very best Elvis had ever performed on stage.

This recording come from an early generation copy of the master tape, the sound quality is excellent considering the early Vegas Season. It sounds incredible to get such audio quality from a tape of 43 years ago, so we proud of to be able to give the chance to you listen the show like you were one of the lucky people who attended the real show. The sound was restored in matter to remove the background noise and preserving Elvis' voice and delivering it at the right speed.

As the previous release the SR to celebrate the 10 years of activities this new release will be housed in a special large digipack 7" (17,5x17.5 cm) with inside a six pages booklet&poster +bonus card each one sealed individually. Due the extreme success of the previous initiative we decide to give you more!! For this new CD all the 500 copies will be accompanied from a bonus EP vinyl 33 rpm speed including four songs from the show.
bonus card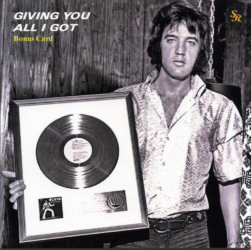 Tracks EP (14 min.):
Side A - 01. Until It's Time For You To Go 02. You'Ve Lost Than Loving Feeling
Side B - 01. Polk Salad Annie 02. For The Good Times
As usually, SR published also for this release a limited deluxe editon with a hand numbered sticker: