Tracks 22 - 31 recorded August 23, 1971 - Dinner Show

The first 100 CDs came with an bonus card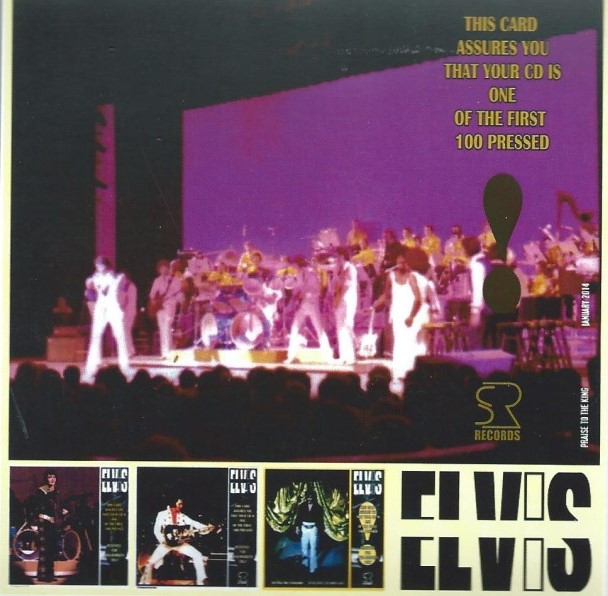 Press annoncement:
"Praise to the King" featuring the unreleased show from Las Vegas August 23, 1971 Midnight Show. After a long research finally we located a good tape that gives us the possibility to produce another show from Elvis fifth season.

As everybody knows SR concentrates its work on early 70's live period of Elvis' activity, trying to produce always unreleased shows with Elvis at the top of his possibilities. In this our new release, we are proud to present the complete show from August 23th midnight performance of the fifth Elvisí historical Vegas season.

The midnight show from August 23th, as presented on this CD, .. no surprises in the tracklist, but the show is extremely solid and good, Elvis sings all the best from the previous seasons including is new single Iím leaving. The sound is good and powerful you can hear clear all the instruments in particular the incredible job on the drums made from Ronnie Tutt. Elvis' performance on these early season nights is superb as he is still performing to the best of his ability. Although he delivers short shows they are delivered in a very intense, crisp and fresh manner that cannot be denied. Elvis was on stage to have fun and demonstrated this during the older, classic numbers, but songs such as 'Proud Mary, Polk Salad Annie' and 'Sweet Caroline' never sounded better. As Bonus we add the best of the Afternoon show in the way to give you a full day and a full 80 minutes of cd. Talking of best song the version of Proud Mary delivered from Elvis and the band is incredible surely the highest moment of the night.

This recording come from an early generation copy of the master tape, the sound quality is good considering the early season. We have on our hands the original mono tape of extremely good quality enabling us to carry out simple re-mastering work, concentrating on the reduction of noise overall at the high frequencies, trying to achieve a more clear sound and of Elvis, keeping a rough mix with some hissing on the high frequencies, but with a great definition to the background music, incredible clear in spite the limitation of an audience recording..

As usually from this label, this new CD will come in a deluxe digipack, containing a collection of live photographs from the season and informative newspaper clips .