Note:
Double LP release with bonus CD. The LPs includes the Boston soundboard recording from November 10, 1971 (officially released by FTD on "Elvis As Recorded At Boston Garden '71").
The bonus CD includes the concert from November 12 in Houston (before not available on silver disc).

Sheet on LP cover (one variation) and CD card: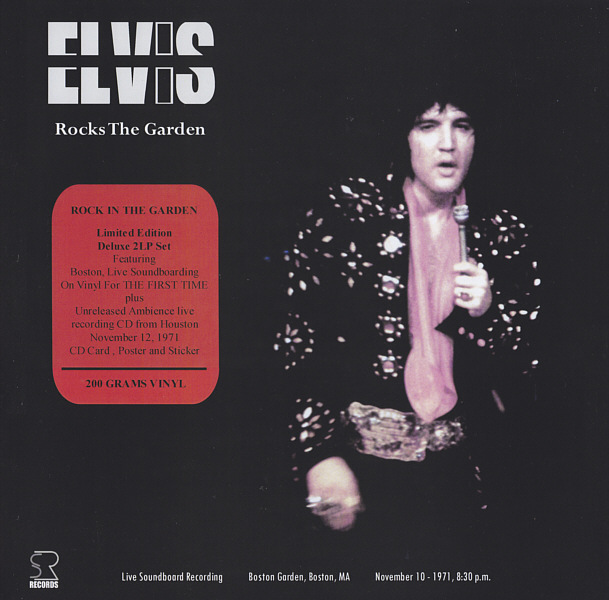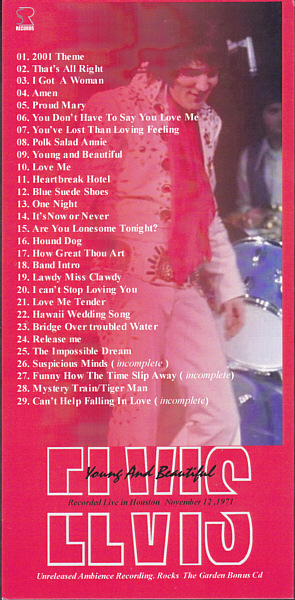 Press announcement (sic !)

To be released soon from SR label his second special combo LP&CD, featuring the live soundboarding from Boston Garden, Boston MA , November 10, 1971 coupled from the unreleased live ambience recording from Houston November 12, 1971.
The SR attitude is to present Elvis at the peak of his possibility and without doubt the November 1971 tour presents Elvis at his top. Both vocal and physical. "Elvis appears better than ever" delivering incredible shows with a wider repertoire respect the previous tour , but overall the man is on the music. If Rock is attitude, the man got it as never before. AFTER ONE YEAR PRISONER in the Vegas & Tahoe hotel the tiger is finally free. The performance is terrific full and sharp you can't stop to watch the man in action.. The Boston concert is great, but without doubt the Houston concert is better, is the pick of the tour.. In seventy crazy minutes Elvis gives life to his best, spacing and personalizing all music kinds as nobody can do it...no other words are necessary.

The limited edition box set is housed in a deluxe 300 grams sleeve that includes:
- a double vinyl edition of the album with the remastered show from Boston November 10, 1971
- a cd with an unreleased show from Houston November 12, 1971.
- as Bonus content a 60x30 high quality glossy paper 130 gram poster, plus the CD card 25x 12 cm and a large Sticker of 17x9 cm.
Double vinyl 200 grams!!!!, including the incredible Boston show with the best audio possible!!

A Soundboarding recording from the improved sound FOR THE FIRST TIME in a double high valued collector vinyl set, 33 rpm speed.
The cd, including we think the best show of the tour , Houston November 12, 1971, in a completely unreleased Audience recording with a decent audio. This recording come from an early generation copy of the master tape, the sound quality is good considering the early arena show. We have on our hands the original mono tape of extremely good quality enabling us to carry out simple re-mastering work, concentrating on the reduction of noise trying to achieve a more clear sound and of Elvis in matter to delivery the best audio possible for your listen pleasure.

SPECIAL LIMITED SET INFO
First 50 copies of This set will come Hand Numbered including two extra unreleased concert photos of 20x13 cm . In matter to have a special collector item, the remaining 300 copies will be presented with three different oversleeves VARIATION.
Each copy will be individually sealed.
The LP 200 VINYL GRAM, IT BRINGS TO THE BEST QUALITY TO DATE!!!!is a LIMITED HAND NUMBERED 350 COPIES
Please remember!! As usually SR DECIDED TO PRODUCE A LIMITED DELUXE EDITION WITH EXCLUSIVE CONTENTS..ask details to your dealer!!!.
COLLECT THEM ALL!!!!!!
We always tryin' to give more, We hope of this new release will be a real great update of your Elvis' live show collection.