Press Note:
Wrongly dated as May 24 - 1974 , Midnight Show!

Gravelroad Music (GRM) returns with yet another great package like ELVIS: GOOD TO BE BACK, this time it's SPANISH EYES: BY REQUEST, Elvis live at the Sahara Tahoe in May 1974. This absolutely excellent tape, from the Friday, May 24, 1974 MS, was the very first available soundboard recording from Lake Tahoe, released in 1995 by Fort Baxter. At this show Elvis was heard taking a personal request for "Spanish Eyes," not something he did too often...

Now the performance is presented by GRM at the correct speed, with improved sound and in a super-deluxe package. Along with a booklet filled with Tahoe '74 facts, photos and detailed liner notes, there is also a reproduction of the rare May 1974 Sahara Tahoe reservation postcard with the color photo of Elvis on back, and another menu-sized, "Your Personal Invitation" card with the invite on the flip-side. Both of these collectables are very hard to find, and suitable for framing.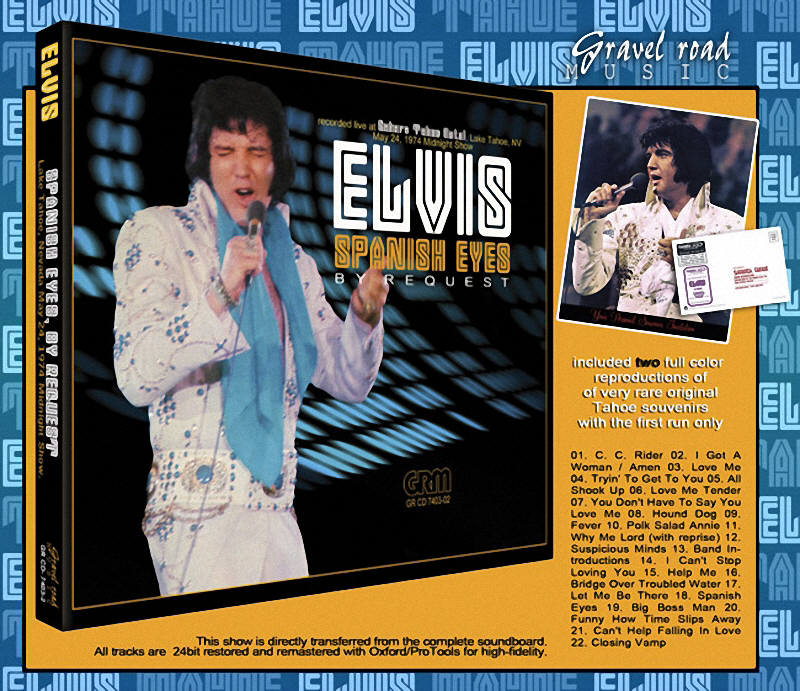 GRM would like to consider this YOUR personal invitation to the May 24, 1974 midnight show at the SAHARA TAHOE. For new fans the show will be a thrill and for longtime fans, an absolute rediscovery. This show captures Elvis being happy and giving his best.