Note:
Double LP release with bonus CD and DVD.

Press note [sic]:

VV records, presents:

STILL WIELDING THE OLD MAGIC!

A limited edition box set housed in a deluxe 350 grams gatefold sleeve that includes:



- a double vinyl edition of the album with the remastered show from Richmond April 10, 1972
- a cd with an unreleased show from Buffalo April 5, 1972
- a dvd with the remastered show from Hampton Road April 09, 1972
- as Additional content a 43x30 art print.

See below for much details about the contents:

Double vinyl 150 grams, including the incredible Richmond show with the best audio possible!!
A Soundboard recording from the improved sound FOR THE FIRST TIME in a double high valued collector vinyl set, 33 rpm speed.

The cd, including The Tour Opening Show , Buffalo April 5, 1972, in a completely unreleased Audience recording with a decent audio. This recording come from an early generation copy of the master tape, the sound quality is very good considering the early arena show. We have on our hands the original mono tape of extremely good quality enabling us to carry out simple re-mastering work, concentrating on the reduction of noise trying to achieve a more clear sound and of Elvis in matter to deliver the best audio possible for your listen pleasure.

The DVD here presented has been professional edited, all the footage has been carefully remastered in the matter to delivery the best video to date!!!! The result is unbelievable forget the cheap dvd that are floating around Ö. . All the footage includes matching audio from the original concert in the way to get a perfect sync between audio and image with speed correction of the original footage.

We added a special art bonus to the package a special art print of an incredible shot from Buffalo.

All the copies will come individually sealed and Please remember!! This is a LIMITED HAND NUMBERED 400 COPIES

We think and we hope you can enjoy this new product, if you love Elvis on tour you CANíT miss it!! Please stay tuned for our next release with the second volume dedicated to ELVIS ON TOUR!

LP set:
Side A
01.2001 Theme 02.C C Rider 03.Proud Mary 04.Never Been To Spain 05.You Gave Me A Mountain
Side B
06.Until Its Time For You To Go 07.Polk Salad Annie 08.Love Me 09.All Shook Up 10.Teddy Bear / Donít Be Cruel 11.Heartbreak Hotel 12.Hound Dog
Side C
13.Bridge Over Troubled Water 14.Love Me Tender 15.Itís Over 16. Suspicious Minds 17.Band Introductions
Side D
18.For The Good Times 19.I Canít Stop Loving You 20.An American Trilogy 21.Lawdy Miss Clawdy 22.Funny How Time Slips Away 23.Canít Help Falling In Love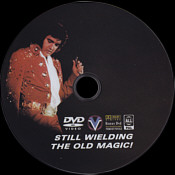 DVD:
Bonus DVD Free Region PAL 16.9
APPROX RUNNING TIME 73.00 min. Included Previously Unreleased Footage.
Chapter 1: Buffalo April 5, 1972 Rehearsal 10,00 min.
Chapter 2: Hampton Roads April 9, 1972 59,00 min.
Chapter 3: Richmond April 10, 1972 3,00 min.
NOTE : All the footage has been digitally restored in matter to achieve the best result on the image quality. All the footage includes matching audio from the original concert in the way to get a perfect sync between audio and image