Cardboard CD as attachment to the Gold Standard Series Extended Play Vinyl box, available in blue and red vinyl.
Announcement (sic):
This remarkable boxset contains 5 gorgeous "Extended Plays" each containing 4 alternate versions of early 60's Elvis classics.
All tracks are recorded at RCA STUDIO B, NASHVILLE TENNESSEE.
Most of the tracks are either hard to find or never issued on a 45. For sure these alternate takes never appeared on 45 until now.
Remarkable is how many great first takes Elvis recorded in the early 60's. Some are featured here on this limited edition boxset.
A great collection of early 60's masterpieces for the first time on 45's.
All tracks are also available on the included bonus CD.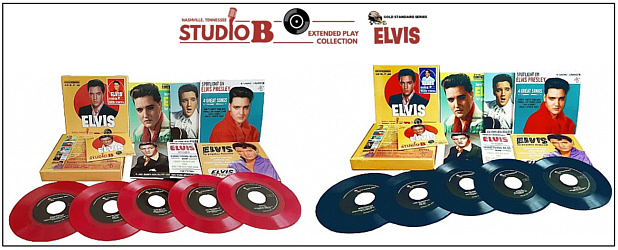 EP 1:
Side A) Fever (take 1) - Working On The Building (take 1) | Side B) In My Father's House - Joshua Fit The Battle (take 1)
EP 2:
Side A) Dirty Dirty Feeling (take 4) - Thrill Of Your Love (take 1) | Side B) Like A Baby (take 2) - Milky White Way (take 5)
EP 3:
Side A) Gently (take 3) - I'm Coming Home (take 3) | Side B) Kiss Me Quick (take 1) - Fountain Of Love (take 2)
EP 4:
Side A) I Want You With Me (take 1) - Judy (take 4) | Side B) Something Blue (take 6) - Just For Old Time Sake (take 1)
EP 5:
Side A) Echoes Of Love (take 3) - Finders Keepers, Losers Weepers (take 1) | Side B) Western Union (take 1) - Memphis Tennessee (take 1)