Note:
Large fold-out digipack with included poster(/48x26 cm) and card (24 x 12.5 cm).

Press announcement 8sic)
To be released soon, Swinging Into The Action (SR Records) with focus on Elvis' April&June 1972 tour, featuring Albuquerque NM April 19th 1972 and the Milwaukee WI, June 14th, 1972. Both the shows are previously unreleased taken directly from a first generation tape.
The SR attitude is to present Elvis at the peak of his possibility and without any doubt Elvis' first two Tours in 1972 present him at the top of his possibilities, delivering maybe shows shorter than the previous November 1971 tour, but still solid. If Rock is an attitude the man still has it. The performances are terrific, rough and sharp.

Here are presented two unreleased shows from the April and June tour. Both the show are very similar, the track list is minimized and the shows are practically identical, with some minor exception like the rare "The First Time Ever Saw Your Face " included in the final Show of Albuquerque..

We are happy and proud of the result we hope you can enjoy too, in spite of the limitation of the audience recording, we are talking of a big Arena shows not of the intimate Las Vegas showroom. The shows are fantastic and the track listing is solid, Elvis is delivering us a sort of greatest hits. Starting from his latest single Until It's Time For You To Go then with the Anthem An American Trilogy passing the best single of 1969, Suspicious Minds without forgetting the glorious fifties with Heartbreak Hotel and Hound Dog…. All the songs are very well performed.

Poster and card: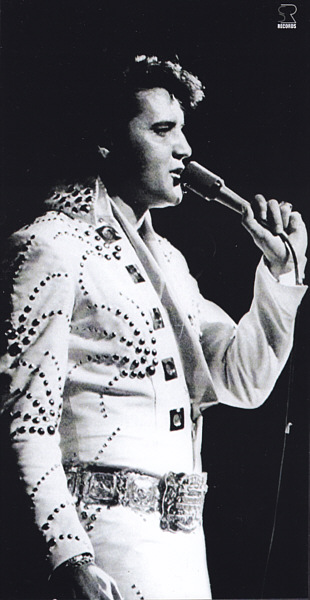 As always SR released the package with different covers and a "deluxe" package, also with different covers..

Announcement (sic):
In matter to have a special collector item, the 400 copies will be presented with FOUR different sleeves VARIATION .All the copies will come hand numbered and individually sealed and Please remember!!
This is a LIMITED HAND NUMBERED 400 COPIES
As tradition of the label, SR LABEL DECIDED TO PRODUCE TOGETHER THE 400 copies of STANDARD EDITION A LIMITED DELUXE EDITION of 100 copies WITH EXCLUSIVE CONTENTS.
COLLECT THEM ALL!!!!!!
2 DELUXE EDITION 100 COPIES EXCLUSIVE NUMBERED, WITH LARGE ART GLOSSY STICKER !!TWO DIFFERENT ART STICKERS!!!
EXCLUSIVE A/4 SIZE DIGIPACK with TWO VARIATIONS OF SLEEVE 50+50 COPIES -- EXCLUSIVE INSIDE FOUR PAGE FOLD OUT SLEEVE in a high glossy paper of 300 gram, HAND NUMBERED
EXCLUSIVE 300 GRAM HIGH GLOSSY ART CARD A/4 SIZED (two different)
EXCLUSIVE PERSONALIZED NOTEPAD WITH PRINTED COVER WITH 50 WHITE PAGES 80 grams PERSONALIZED WITH LOGO "Swinging Into The Action" A/4 SIZE.GLOSSY COVER OF 250 GRAM AND BACK COVER IN WHITE CARDBOARD OF 400 GRAM, 6 mm of the spine.
EXCLUSIVE PERSONALIZED A/4 SIZE PRINTED WOODEN BOARD 8 MM THIN.
EXCLUSIVE POSTER HIGH GLOSSY 135 GRAM ( 48x28 cm)
| | |
| --- | --- |
| | |
| Deluxe | Different Covers |