The complete rehearsals for the "That's The Way It Is" movie
Re-release of the bootleg CDs "The Brightest Star On Sunset Boulevard Vol.1" and "The Brightest Star On Sunset Boulevard Vol.2"

Announcement: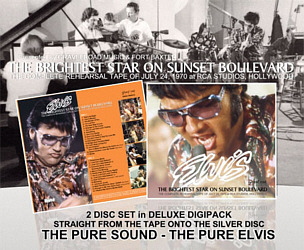 After the successful releases of "Vegas Rhythm" and "You Know, It Don't Have To Be Strictly Country – Volume 1" we are proud to tell that Fort Baxter wanted to join forces with them ,releasing "The Brightest Star Of Sunset Boulevard Volume 1 and 2".
We at Gravelroad music, loved the idea and know the high standards Fort Baxter lives up to. It has to be an excellent release, so we said; " Great let's do it , but…. a 2 cd value Digipack and working with the original recording!
So everybody will have the change to have it complete this time". Value for money is needed in these times.
The moment we started to work we discovered that the original sound was much clearer and much more spread to left and right.
The background instruments where suddenly present. Elvis voice was in the room and were present there at the rehearsal.
We knew it is a justified release, no compressors, limiters, etc. It's exciting and more … pure Elvis