Issued in 2016 by Sony Music Entertainment to promote the upcoming "Elvis Presley with the Royal Philharmonic Orchestra - The Wonder Of You" CD release.

'"For Promo Use Only - Not for sale" is printed on the back and on disc.

Sony Music logo on back and CD.

The CD and the back is numbered, this is # 59.
On back is written "WARNING ! THIS CD IS WATERMARKED AND TRACEABLE #59 "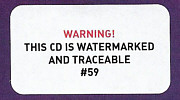 This is a watermarked, individuell signed CD.
Audio watermarking is a method for establishing a hidden data channel.