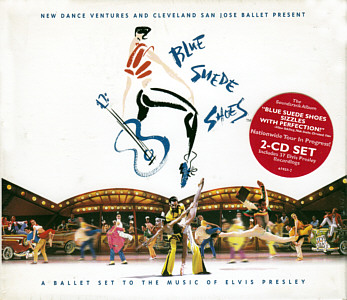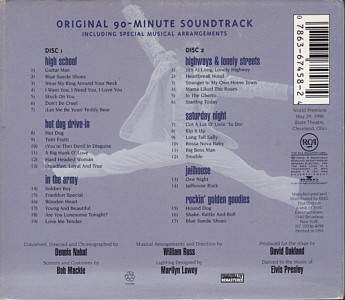 Slip-In cardboard
| | | | |
| --- | --- | --- | --- |
| Release: 1997 | BMG 07863 67458 2 | USA | 45 € |
| Release: 1997 | BMG 2CDL 078636745824 | Mexico | |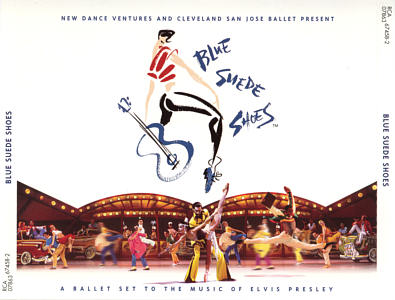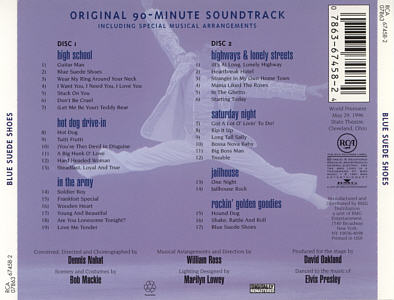 An original soundtrack recording from the touring rock ballet "New Dance Ventures And Cleveland San Jose Ballet", world premiere May 29, 1996, in the State Theatre, Cleveland / Ohio..
2 CD set in a fat jewel case. Seen with and without cardboard.
Old RCA and BMG logos on back cover and CD
Comes with a 16 pages booklet with notes about the show by David Oakland, photos and track listings.

Front of the booklet

All tracks are enhanced and remixed.

Made by Sonopress, USA

UPC/EAN: 0078636745824
| | |
| --- | --- |
| | Sticker on wrapper |
Disc 1
Matrix number: SONOPRESS USA 07863674582D1 ++ 75329-01 IFPI L027 IFPI 1043

01
02
03
04
05
06
07


high school
Guitar Man (unedited version)
Blue Suede Shoes
Wear My Ring Around Your Neck
I Want You, I Need You, I Love You (alternate take)
Stuck On You (different intro)
Don't Be Cruel
(Let Me Be Your) Teddy Bear



02:55
02:00
02:11
02:33
01:41
01:28
01:44


US-RC1-67-05295
US-RC1-56-05264
US-RC1-58-05281
US-RC1-56-05265
US-RC1-60-05286
US-RC1-56-05266
US-RC1-57-05275


08
09
10
11
12
13


hot dog drive-in

Hot Dog (horn intro)
Tutti Frutti
(You're The) Devil In Disguise
A Big Hunk O' Love
Hard Headed Woman
Steadfast, Loyal And True


01:23
01:56
02:07
01:43
01:56
01:14

US-RC1-57-05276
US-RC1-56-05267
US-RC1-63-05292
US-RC1-58-05282
US-RC1-58-05283
US-RC1-58-05284

14
15
16
17
18
19
in the army
Soldier Boy
Frankfort Special
Wooden Heart (music box intro)
Young And Beautiful (music box intro)
Are You Lonesome Tonight?
Love Me Tender

03:07
02:33
02:07
02:25
03:09
02:48

US-RC1-60-05287
US-RC1-60-05288
US-RC1-60-05289
US-RC1-57-05277
US-RC1-60-05290
US-RC1-56-05268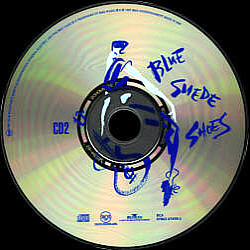 Disc 2
Matrix number: SONOPRESS USA 07863674582D2 ++ 75304-01 IFPI L027 IFPI 1053

01
02
03
04
05
06


highway & lonely streets
(It's A) Long, Lonely Highway
Heartbreak Hotel
Stranger In My Own Home Town
Mama Liked The Roses (chimes intro)
In The Ghetto
Starting Today


02:32
02:01
02:36
02:47
02:49
02:57

US-RC1-63-05293
US-RC1-56-05269
US-RC1-69-05297
US-RC1-69-05298
US-RC1-69-05299
US-RC1-61-05291

07
08
09
10
11
12


saturday night


Got A Lot O' Living To Do
Rip It Up
Long Tall Sally
Bossa Nova Baby
Big Boss Man (duim intro)
Trouble (drum intro)

01:53
01:53
01:47
01:55
02:32
02:18


US-RC1-57-05278
US-RC1-56-05270
US-RC1-56-05271
US-RC1-63-05294
US-RC1-67-05296
US-RC1-58-05285


13
14
jailhouse
One Night Of Sin (sax overdub)
Jailhouse Rock (sax overdub)

01:41
02:17


US-RC1-57-05279
US-RC1-57-05280


15
16
17

rockin' golden goodies
Hound Dog (instrumental, slow)
Shake, Rattle And Roll (instrumental)
Blue Suede Shoes (instrumental)

02:43
02:10
02:29

US-RC1-56-05272
US-RC1-56-05273
US-RC1-56-05274