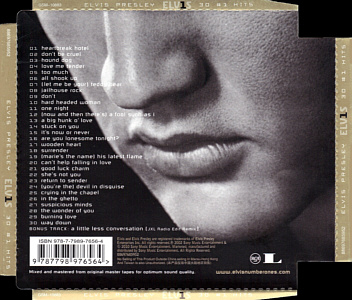 SUPER JEWEL BOX - SJB
| | | | |
| --- | --- | --- | --- |
| Release: 2010 | Sony 88697685952 / GSM-10883 DCD-3154 ISRC CN-F18-10-525-00/A.J6 | China | 20 € |
Distributed by Sony Music Entertainment China Holdings Limited-
UPC/EAN: 9787798976564
GSM Music-sticker & US-like Sony / GSM & fine arts-seal 00686339 on wrapper-
Came with a 12 pages booklet Sony Music & GSM Music logos and lyrics in english + GSM Music (Good Service Good Music) post-card

88697685952 and old RCA and Legacy logos on backside.
Liner notes for A Little Less Conversation behind the clear tray
Sony Music and GSM Music logos on spine
On back and on Obi is written:
文音进字 (2010) 460号 (Ministry Of Culture Import Permit No.)
国权音字 21-2010-0465号 (National Copyright Association Permit No.)

Orange obi with ISRC CN-F18-10-525-00/A.J6, 21-2010-0465,
ISBN 978-7-7989-7656-4, Sony Music, GSM Music and Bird logos.

Not for sale outside of China, included Macau, Hong Kong and Taiwan

Because of the language barrier and other difficulties we cannot determine which titles honor ownership and other rights and which do not.
What we can say is that this CD was bought in an official music store, and that we have no reason to doubt its authenticity.





GSM MUSIC STICKER

FINE ARTS SEAL
OBI

and seals
Matrix number: ISRC CN-F18-10-525-00/A.J6 GSM-10883 ISBN 978-7-7989-7656-4 ifpi AEC09

GSM MUSIC (GOOD SERVICE GOOD MUSIC) POST CARD

FINE ARTS MUSIC AND CHINESE CHARACTERS
IMPRESSED ON JEWEL CASE


#3 and 30 are remixed.
#8, 26 and 29 are the original masters with longer fade out.
#12, 13 and 28

are not

the original masters.
None of these songs were on original date of release in a single chart!
01
02
03
04
05
06
07
08
09
10
11
12
13
14
15
16
17
18
19
20
21
22
23
24
25
26
27
28
29
30
31
Heartbreak Hotel
Don't Be Cruel
Hound Dog
Love Me Tender
Too Much
All Shook Up
(Let Me Be Your) Teddy Bear
Jailhouse Rock
Don't
Hard Headed Woman
One Night
(Now And Then There's) A Fool Such As I (take 8)
A Big Hunk O' Love
Stuck On You
It's Now Or Never
Are You Lonesome Tonight?
Wooden Heart
Surrender
(Marie's The Name) His Latest Flame
Can't Help Falling In Love
Good Luck Charm
She's Not You
Return To Sender
(You're The) Devil In Disguise
Crying In The Chapel
In The Ghetto
Suspicious Minds
The Wonder Of You (February 18, 1970, MS)
Burning Love
Way Down
A Little Less Conversation (JXL remix)
02:09
02:04
02:15
02:44
02:36
02:00
01:49
02:37
02:51
01:57
02:35
02:42
02:17
02:20
03:18
03:08
02:04
01:55
02:09
03:01
02:27
02:12
02:11
02:22
02:26
03:05
04:34
02:28
02:59
02:39
03:33