Foldout Digipak
| | | | |
| --- | --- | --- | --- |
| Release: 2004 | BMG JFT-0004 / 07863 680792 | China | 20 € |

2 CDs in gatefold digipak.
Came with a 16 pages booklet lyrics in English.
BMG and Hunan Goldbee logos on back and on spine.

On CD Hunan Goldbee logo, HY02156 and SJF-003.
On spine Hunan Goldbee logo and JFT-0004.

UPC/EAN: 9787081205043
ISRC: CN-F08-02-0171-0 / CN-F08-02-0172-0

On back and on CD is written:
文音进字 (2002) 796号 (Ministry Of Culture Import Permit No.)
国权音字 42-2002-1462号 (National Copyright Association Permit No.)






Because of the language barrier and other difficulties we cannot guarantee that it is a legal publication.
Please also read the FAQ "Why are so few CDs from China listed here?" We can not explain, but we have doubts as to the authenticity.
Same CDs as used in the titles "ELV1S - 30 #1 Hits - CD 1" & "ELV1S - 30 #1 Hits - CD 2"
The only difference is - beside the matrix number - the here printed numbers SJF-003 / SJF-0031 on CD.
CD 1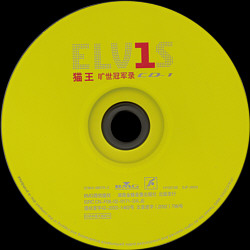 Matrix number: ISRC CN-F08-02-0171-0/A.J6 SJF-0003 IFPI M206
01
02
03
04
05
06
07
08
09
10
11
12
13
14
15
Heartbreak Hotel
Don't Be Cruel
Hound Dog
Love Me Tender
Too Much
All Shook Up
(Let Me Be Your) Teddy Bear
Jailhouse Rock
Don't
Hard Headed Woman
One Night
(Now And Then There's) A Fool Such As I (take 8)
A Big Hunk O' Love
Stuck On You
It's Now Or Never
02:11
02:06
02:17
02:46
02:02
01:51
02:39
02:22
02:38
02:53
01:59
02:37
02:44
02:19
03:18


CD 2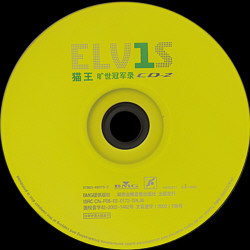 Matrix number: IISRC CN-F08-02-0172-0/A.J6 SJF-0031 IFPI M206
01
02
03
04
05
06
07
08
09
10
11
12
13
14
15
16
Are You Lonesome Tonight?
Wooden Heart
Surrender
(Marie's The Name) His Latest Flame
Can't Help Falling In Love
Good Luck Charm
She's Not You
Return To Sender
(You're The) Devil In Disguise
Crying In The Chapel
In The Ghetto
Suspicious Minds
The Wonder Of You (February 18, 1970, MS)
Burning Love
Way Down
A Little Less Conversation (JXL remix)
03:10
02:06
01:57
02:11
03:03
02:29
02:14
02:28
02:13
02:24
03:07
04:36
02:30
03:01
02:41
03:33