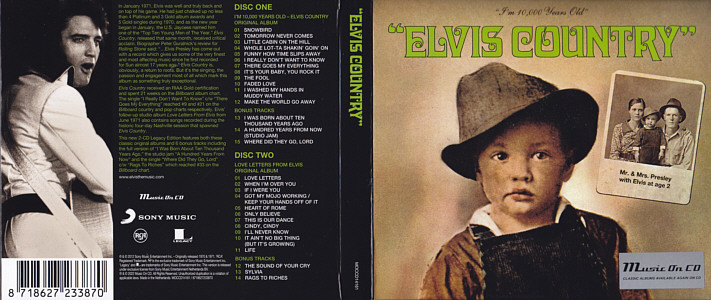 | | | | |
| --- | --- | --- | --- |
| Release: 2022 | Sony Legacy 8718627233870 / MOCDCD14161 | Netherlands | 18 € |

℗ © 2022 Music On CD. Released under exclusive license from Sony Music Entertainment Netherlands BV.
Music On CD is an independent label specializing in CD re-releases. Founded in 2013 and located in Capelle aan den IJssel / Rotterdam, The Netherlands.

Old RCA, Sony Music, Legacy and Music On CD logos on back.

Comes in a 3 panel fold-out digipak sleeve including a 24 pages booklet.

UPC/EAN: 8718627233870
Announcement (sic): "Elvis Country", is not really a country album so much as it is a good ol' time rocker. His touring band, which featured guitar-whiz James Burton, is smokin' here, and they generally keep the tempos at a steady pace.
'Elvis Country (I'm 10,000 Years Old)' marked the pinnacle of Presley's brief artistic renaissance, which began with the 1968 Comeback Special on TV. Elvis had begun performing in Las Vegas, and on 'Elvis Country' you can feel the energy of a professional who is reinvigorated and hungry for an audience. It would be Presley's last Top 20 album in the United States, until his death in 1977.
Disc Two is the 1971 'Love Letters From Elvis' including the rare tracks "If I Were You" and "This Is Our Dance" plus the bonus tracks "The Sound Of Our City", "Sylvia" and "Rags To Riches".
See the "MOCD" here.
| | |
| --- | --- |
| | "Music On CD" sticker on front |

DISC ONE
I'm 10,000 Years Old - Elvis Country - Original Album

Matrix number: 453172 @1 WWW:PROFACT-INTERNATONAL.COM IFPI LW03 IFPI AAHP9

01
02
03
04
05
06
07
08
09
10
11
12


13
14
15
Snowbird
Tomorrow Never Comes
Little Cabin on the Hill
Whole Lotta Shakin' Going On
Funny How Time Slips Away
I Really Don't Want to Know
There Goes My Everything
It's Your Baby, You Rock It
Fool
Faded Love
I Washed My Hands in Muddy Water
Make the World Go Away

Bonus tracks:
I Was Born About Ten Thousand Years Ago
A Hundred Years From Now (studio jam)
Where Did They Go, Lord
02:17
04:07
01:58
03:09
04:31
02:59
03:10
03:03
02:33
03:19
03:56
03:54


03:15
01:42
02:28

US-RC1-98-08584
US-RC1-99-01974
US-RC1-99-00410
US-RC1-10-00150
US-RC1-99-00412
US-RC1-70-07965
US-RC1-99-00414
US-RC1-99-00415
US-RC1-99-00416
US-RC1-99-00417
US-RC1-99-00418
US-RC1-99-00419


US-RC1-70-07773
US-RC1-70-01903
US-RC1-70-01870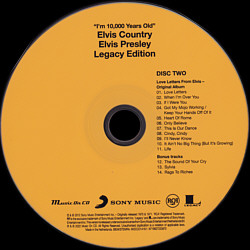 DISC TWO
Love Letters From Elvis - Original Album

Matrix number: 453173 @1 WWW:PROFACT-INTERNATONAL.COM IFPI LW03 IFPI AAHP9

01
02
03
04
05
06
07
08
09
10
11


12
13
14
Love Letters
When I'm Over You
If I Were You
Got My Mojo Working
Heart Of Rome
Only Believe
This Is Our Dance
Cindy, Cindy
IŽll Never Know
It Ain't No Big Thing
Life

Bonus tracks:
The Sound Of Your Cry
Sylvia
Rags To Riches
02:54
02:30
03:03
04:39
02:57
02:52
03:17
02:35
02:27
02:50
03:15


03:18
03:20
01:55

US-RC1-70-07795
US-RC1-70-07796
US-RC1-70-07769
US-RC1-70-01906
US-RC1-70-01873
US-RC1-70-00762
US-RC1-70-07801
US-RC1-70-01905
US-RC1-70-07797
US-RC1-70-01910
US-RC1-70-01871


US-RC1-70-01875
US-RC1-70-07798
US-RC1-70-01869