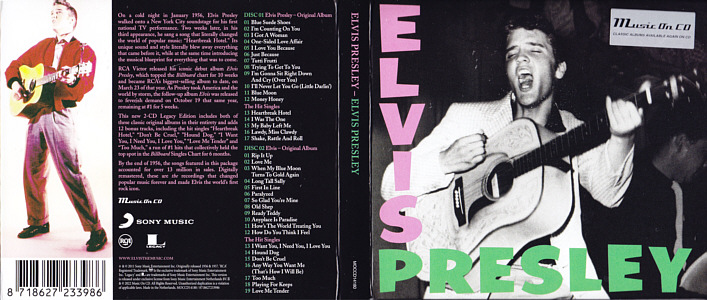 | | | | |
| --- | --- | --- | --- |
| Release: 2022 | Sony Legacy 8718627233986 / MOCDCD14180 | Netherlands | 18 € |

℗ © 2022 Music On CD. Released under exclusive license from Sony Music Entertainment Netherlands BV.
Music On CD is an independent label specializing in CD re-releases. Founded in 2013 and located in Capelle aan den IJssel / Rotterdam, The Netherlands.

Old RCA, Sony Music, Legacy and Music On CD logos on back.

Comes in a 3 panel fold-out digipak sleeve including a 24 pages booklet with liner notes by Mikael Jorgenson and Roger Semon.
UPC/EAN. 8718627233986
Announcement: In the beginning, there was a new singer with an unusual name, Elvis Presley, who beat out the rhythm on an acoustic guitar, a nimble fingered lead guitarist, Scotty Moore, a down to earth drummer, D J Fontana and a mischievous bass player Bill Black and together they made music that changed popular culture. Opening with "Blue Suede Shoes", the album starts with a power house performance that was to characterize most of the albums that followed.
His second album, "Elvis", is an ever stronger collection than the first record. Some of Elvis's best recordings are on this record, including the pleading "Love Me", the gorgeous "First In Line". Several legendary singles have been added as bonus tracks, including "Hound Dog" and "Love Me Tender".
See the "MOCD" here.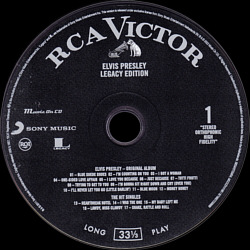 CD 1:

Matrix number: 455355 @1 WWW:PROFACT-INTERNATONAL.COM IFPI LW03 IFPI AAHR0

ELVIS PRESLEY

01
02
03
04
05
06
07
08
09
10
11
12


13
14
15
16
17

Blue Suede Shoes
I'm Counting On You
I Got A Woman
One-Sided Love Affair
I Love You Because
Just Because
Tutti Frutti
Tryin' To Get To You
I'm Gonna Sit Right Down And Cry (Over You)
I'll Never Let You Go (Little Darlin')
Blue Moon
Money Honey

The Hit Singles:
Heartbreak Hotel
I Was The One
My Baby Left Me
Lawdy, Miss Clawdy
Shake, Rattle And Roll

02:02
02:25
02:26
02:11
02:41
02:34
01:59
02:33
02:05
02:25
02:44
02:37


02:09
02:34
02:15
02:09
02:26

US-RC1-56-02848
US-RC1-56-01859
US-RC1-56-02865
US-RC1-56-02851
US-RC1-54-08136
US-RC1-54-01854
US-RC1-56-02850
US-RC1-55-01857
US-RC1-56-01943
US-RC1-54-01855
US-RC1-54-08328
US-RC1-56-02867


US-RC1-56-02846
US-RC1-56-02866
US-RC1-56-02847
US-RC1-56-02860
US-RC1-56-07491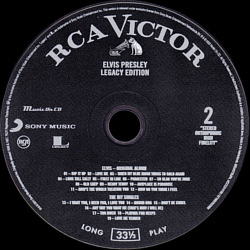 CD 2:

Matrix number: 455356 @1 WWW:PROFACT-INTERNATONAL.COM IFPI LW03 IFPI AAHR9

ELVIS
01
02
03
04
05
06
07
08
09
10
11
12


13
14
15
16
17
18
19

Rip It Up
Love Me
When My Blue Moon Turns To Gold Again
Long Tall Sally
First In Line
Paralyzed
So Glad You're Mine
Old Shep
Ready Teddy
Anyplace Is Paradise
How's The World Treating You
How Do You Think I Feel

The Hit Singles:
I Want You, I Need You, I Love You
Hound Dog
Don't Be Cruel
Any Way You Want Me (That's How I Will Be)
Too Much
Playing For Keeps
Love Me Tender
01:55
02:45
02:22
01:54
03:23
02:26
02:22
04:10
01:57
02:26
02:25
02:12


02:41
02:18
02:05
02:16
02:34
02:53
02:43

US-RC1-56-02863
US-RC1-56-02852
US-RC1-56-03927
US-RC1-56-07468
US-RC1-56-07494
US-RC1-56-02854
US-RC1-56-02849
US-RC1-56-03928
US-RC1-56-02855
US-RC1-56-02853
US-RC1-56-07466
US-RC1-56-07467


US-RC1-56-02862
US-RC1-56-02857
US-RC1-56-02859
US-RC1-56-02858
US-RC1-56-04928
US-RC1-56-05819
US-RC1-56-05813