| | | | |
| --- | --- | --- | --- |
| Release: 2009 | Sony Legacy 8718627233863 / MOCDCD14160 | Netherlands | 18 € |
℗ & © 2022 Music On CD. Released under exclusive license from Sony Music Entertainment Netherlands BV.
Music On CD is an independent label specializing in CD re-releases. Founded in 2013 and located in Capelle aan den IJssel / Rotterdam, The Netherlands.
Old RCA, Sony Music, Legacy and Music On CD logos on back.
Comes in a 3 panel fold-out digipak sleeve including a 24 pages booklet.

UPC/EAN: 8718627233863
Announcement: 'From Elvis In Memphis' was a No.1 album in 1969 and deservedly so. Here Elvis is approaching his peak as an artist having made his glorious 1968 T.V special. "Back In Memphis" continues in the same vein. "Inherit The Wind" and "This Is The Story" rank alongside "True Love Travels On A Gravel Road". These are probably The King's two best studio records. The legacy edition including 14 bonus tracks then concludes with a run through of the Elvis Presley singles from that time like "Mama Liked The Roses", "Suspicious Minds", "Don't Cry Daddy", "Rubberneckin'" (original version) and "Kentucky Rain". Individually the albums were fantastic, put them together on this legacy set with the extras, and you have an unsurpassed master from "The King Of Rock And Roll".
See the "MOCD" here.
| | |
| --- | --- |
| | "Music On CD" sticker on front |
DISC 1
Known matrix numbers:
452602 @1 WWW:PROFACT-INTERNATONAL.COM IFPI LW03 IFPI AAHP9
452602 @1 WWW:PROFACT-INTERNATONAL.COM IFPI LW03 IFPI AAHP5


01
02
03
04
05
06
07
08
09
10
11
12


13
14
15
16
From Elvis In Memphis - Original Album
Wearin' That Loved On Look
Only The Strong Survive
I'Il Hold You ln My Heart (Till I Can Hold You In My Arms)
Long Black Limousine
lt Keeps Right On A-Hurtin'
I'm Movin' On
Power Of My Love
Gentle On My Mind
After Loving You
True Love Travels 0n A Gravel Road
Any Day Now
In The Ghetto

Bonus tracks:
I'lI Be There
Hey Jude
lf l'm A Fool (For Loving You)
Who Am I?

02:48
02:44
04:35
03:45
02:40
02:56
02:40
03:25
03:08
02:41
03:04
02:51


02:28
04:34
02:47
03:18


US-RC1-69-08256
US-RC1-69-08257
US-RC1-69-03936
US-RC1-69-08258
US-RC1-69-03937
US-RC1-69-08259
US-RC1-69-08260
US-RC1-69-03938
US-RC1-69-08261
US-RC1-69-08262
US-RC1-69-03635
US-RC1-69-06016


US-RC1-93-06035
US-RC1-93-06033
US-RC1-93-06040
US-RC1-93-05712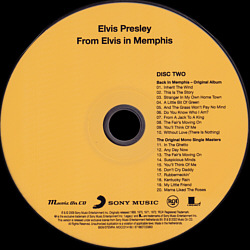 DISC 2
Known matrix numbers:
452603 @1 WWW:PROFACT-INTERNATONAL.COM IFPI LW03 IFPI AAHP9
452603 @1 WWW:PROFACT-INTERNATONAL.COM IFPI LW03 IFPI AAHP5


01
02
03
04
05
06
07
08
09
10


11
12
13
14
15
16
17
18
19
20
Back In Memphis - Original Album
Inherit The Wind
This Is The Story
Stranger ln My Own Home Town
A Little Bit Of Green
And The Grass Won't Pay No Mind
Do You Know Who l Am?
From A Jack To A King
The Fair's Moving On
You'Il Think Of Me
Without Love (There Is Nothing)

The Original Mono Single Masters
In The Ghetto
Any Day Now
The Fair's Moving On
Suspicious Minds
You'lI Think Of Me
Don't Cry Daddy
Rubberneckin'
Kentucky Rain
My Little Friend
Mama Liked The Roses

03:00
02:32
04:27
03:26
03:13
02:53
02:28
03:13
04:03
02:58


02:53
03:01
03:13
04:27
04:03
02:48
02:15
03:25
02:47
02:36


US-RC1-93-06028
US-RC1-93-06023
US-RC1-93-06037
US-RC1-93-06026
US-RC1-93-06038
US-RC1-93-06039
US-RC1-93-06032
US-RC1-93-06041
US-RC1-93-06025
US-RC1-93-06034


US-RC1-69-06016
US-RC1-69-03635
US-RC1-99-01938
US-RC1-69-01355
US-RC1-69-08462
US-RC1-69-08264
US-RC1-69-08282
US-RC1-69-03934
US-RC1-99-01933
US-RC1-69-08463