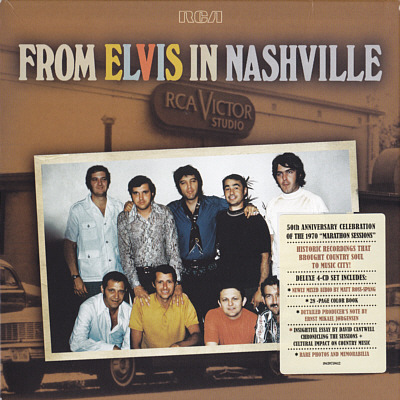 8" Cardboard box with sticker on wrapper
| | | | |
| --- | --- | --- | --- |
| Release: 2020 | Sony Legacy 19439759412 | EU | 37 € |
| Release: 2020 | Sony Legacy 19439759412 | USA | 37 € |

4 CDs in a fold-out cardboard carrier. The package comes with a 28 pages booklet
Made by Sonopress, Germany. Distributed by Sony Music Entertainment.
Old RCA, Legacy and Sony Music logos on back. RCA block logo, old RCA and Legacy logos on CD.
BIEM/GEMA on disc.
Short note: On back cover "Bridge Over Troubled Water" (CD 1, track 10) is spelled "Bridge over troubl ed water".
UPC/EAN: 0194397594126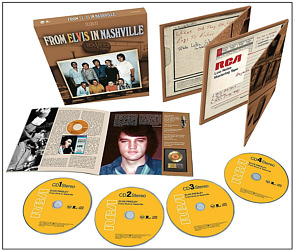 For Elvis' first recordings of the 1970s, Elvis revisited the blueprint that made his 1969 American Sound sessions so successful he cut loose live in the studio with a band in sync with his sensibility. Freed from obligations to music publishers, Elvis was able to pick and record songs that were contemporary, relevant and meaningful to him, from covers - including his transcendent interpretation of "Bridge Over Trouble Water" - to the epic material then powering his Las Vegas residencies and return to live performing. (In 1970 alone, Elvis performed two-month-long engagements at the International, playing two shows a night.)

Recorded live in RCA's Studio B in Nashville over the course of an epic five day/night run in June 1970 (with an additional session on September 22), Elvis' performances from those sessions formed the core of three of his most successful studio album releases from the 1970s: Elvis: That's the Way It Is, Elvis Country (I'm 10,000 Years Old) and Love Letters from Elvis.

Now, for the first time, the master recordings from the 1970 Studio B sessions may be enjoyed together as a single official Elvis album! On From Elvis In Nashville, Presley's studio tracks from the 1970 marathon sessions are presented in pristine audio, newly mixed by acclaimed engineer Matt Ross-Spring (John Prine, Jason Isbell) without the added overdubs or orchestration appearing on earlier releases.
CD 1: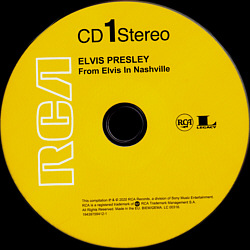 Matrix number:

57474277/19439759412-1 21 IFPI LP73 IFPI 0787
01
02
03
04
05
06
07
08
09
10
11
12
13
14
15
16
17
18
19
20
21
22

Mystery Train (opening jam)
Twenty Days and Twenty Nights
I've Lost You
I Was Born About Ten Thousand Years Ago
The Sound of Your Cry
The Fool
A Hundred Years from Now
Little Cabin On The Hill
Cindy, Cindy
Bridge Over Troubled Water
How The Web Was Woven
Got My Mojo Working / Keep Your Hands Off of It
It's Your Baby, You Rock It
Stranger In The Crowd
I'll Never Know
Mary In The Morning
It Ain't No Big Thing (But It's Growing)
You Don't Have to Say You Love Me
Just Pretend
This Is Our Dance
Life
Heart of Rome


01:52
03:37
04:02
03:33
04:31
02:32
01:35
01:50
03:13
04:31
03:31
05:29
03:10
04:31
02:25
04:17
02:51
02:38
04:06
03:15
03:13
02:56

US-RC1-20-01343
US-RC1-20-01344
US-RC1-20-01345
US-RC1-70-01901
US-RC1-20-01346
US-RC1-10-00155
US-RC1-20-01347
US-RC1-20-01348
US-RC1-20-01349
US-RC1-20-01350
US-RC1-20-01351
US-RC1-20-01352
US-RC1-20-01353
US-RC1-20-01354
US-RC1-20-01355
US-RC1-20-01356
US-RC1-20-01357
US-RC1-20-01358
US-RC1-20-01359
US-RC1-20-01360
US-RC1-20-01361
US-RC1-20-01362



CD 2: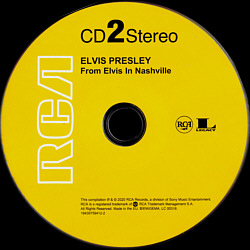 Matrix number:

57474283/19439759412-2 21 IFPI LB47 IFPI 0787
01
02
03
04
05
06
07
08
09
10
11
12
13
14
15
16
17
18

When I'm Over You
I Really Don't Want to Know
Faded Love
Tomorrow Never Comes
The Next Step Is Love
Make The World Go Away
Funny How Time Slips Away
I Washed My Hands In Muddy Water
Love Letters
There Goes My Everything
If I Were You
Only Believe
Sylvia
Patch It Up
Snowbird (undubbed master)
Where Did They Go, Lord
Whole Lot-ta Shakin' Goin' On
Rags to Riches


03:35
02:48
04:09
03:57
03:48
03:38
04:22
05:21
02:56
03:02
03:02
03:00
03:19
03:30
02:06
02:29
04:38
01:57
US-RC1-20-01363
US-RC1-20-01364
US-RC1-20-01365
US-RC1-20-01366
US-RC1-20-01367
US-RC1-20-01368
US-RC1-20-01369
US-RC1-20-01370
US-RC1-20-01371
US-RC1-20-01372
US-RC1-20-01373
US-RC1-20-01374
US-RC1-20-01375
US-RC1-20-01376
US-RC1-20-01377
US-RC1-20-01378
US-RC1-20-01379
US-RC1-20-01380
CD 3:
Matrix number:

57474289/19439759412-3 21 IFPI LB47 IFPI 0778
01
02
03
04
05
06
07
08
09
10
11
12
13
14
15


Tiger Man (jam)
I've Lost You (take 1)
The Next Step Is Love (takes 3-6)
You Don't Have to Say You Love Me (rehearsal)
Patch It Up (take 1)
Twenty Days and Twenty Nights (takes 5,6 & 8)
How The Web Was Woven (take 1)
Mary In The Morning (takes 3-4)
Just Pretend (takes 1-2)
Stranger In The Crowd (takes 1-5)
Bridge Over Troubled Water (rehearsal, take 1)
Patch It Up (take 9)
The Sound of Your Cry (take 3)
Where Did They Go, Lord (takes 2-3)
Rags to Riches (take 2)


02:50
05:23
05:18
02:25
02:43
05:53
05:22
06:03
04:49
04:52
05:36
04:38
05:10
02:54
03:17

US-RC1-20-01381
US-RC1-20-01382
US-RC1-20-01383
US-RC1-20-01384
US-RC1-20-01385
US-RC1-20-01386
US-RC1-20-01387
US-RC1-20-01388
US-RC1-20-01389
US-RC1-20-01390
US-RC1-20-01391
US-RC1-20-01392
US-RC1-20-01393
US-RC1-20-01394
US-RC1-20-01395

CD 4: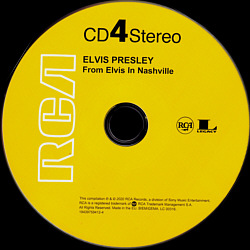 Matrix number:

57474301/19439759412-4 21 IFPI LP73 IFPI 0787
01
02
03
04
05
06
07
08
09
10
11
12
13
14
15
16
17
18
19

I Didn't Make It On Playing Guitar (jam)
Faded Love (rehearsal, country version)
The Fool (take 1)
A Hundred Years from Now (take 1)
Little Cabin On The Hill (take 1)
Tomorrow Never Comes (takes 10-11)
Snowbird (take 1)
Faded Love (take 3)
It's Your Baby, You Rock It (take 3)
There Goes My Everything (take 1)
Love Letters (take 1)
If I Were You (take 5)
Heart of Rome (take 1)
Cindy, Cindy (take 1)
I'll Never Know (take 3)
Sylvia (take 9)
It Ain't No Big Thing (But It's Growing) (takes 1-2)
Only Believe (take 3)
Life (take 1 part. / take 2)


04:12
00:43
02:29
02:19
02:29
06:31
02:34
04:22
03:11
03:03
02:11
03:34
03:22
04:09
04:07
03:18
04:32
02:45
03:50

US-RC1-20-01396
US-RC1-20-01397
US-RC1-20-01398
US-RC1-20-01399
US-RC1-20-01400
US-RC1-20-01401
US-RC1-20-01402
US-RC1-20-01403
US-RC1-20-01404
US-RC1-20-01405
US-RC1-20-01406
US-RC1-20-01407
US-RC1-20-01408
US-RC1-20-01409
US-RC1-20-01410
US-RC1-20-01411
US-RC1-20-01412
US-RC1-20-01413
US-RC1-20-01414