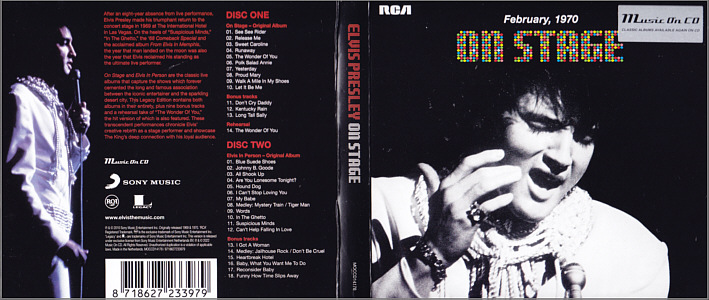 | | | | |
| --- | --- | --- | --- |
| Release: 2022 | Sony Legacy 8718627233979 / MOCDCD14178 | Netherlands | 18 € |
℗ © 2022 Music On CD. Released under exclusive license from Sony Music Entertainment Netherlands BV.
Music On CD is an independent label specializing in CD re-releases. Founded in 2013 and located in Capelle aan den IJssel / Rotterdam, The Netherlands.

Old RCA, Sony Music, Legacy and Music On CD logos on back.
Comes in a 3 panel fold-out digipak sleeve including a 24 pages booklet.

UPC/EAN. 8718627233979
Announcement: Back in 1970 "On Stage" was an important step in Elvis' live album releases and his musical back-on-stage renaissance. Elvis showed that he could find great country-funk-rock songs like stunning versions of Tony Joe White's "Polk Salad Annie", John Fogerty's "Proud Mary" and Neil Diamond's "Sweet Caroline" while at the same time Elvis put his very soul on the line with an amazing "Release Me" and "Let It Be Me."
While the previous "Elvis In Person" marvelously captured the stunning dynamite of a resurrected Elvis, "In Person" is basically an album of old rock-n-roll hits, a stunning look-back with a slight look forward with "Suspicious Minds" and "In The Ghetto".On both albums Elvis is accompanied by James Burton, The Imperials and The Sweet Inspirations.

See the "MOCD" here.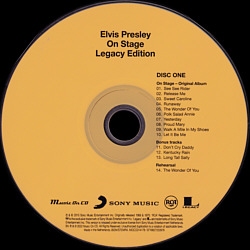 Disc 1 - On Stage
Known matrix numbers:
454463 @1 WWW:PROFACT-INTERNATONAL.COM IFPI LW03 IFPI AAHP9
454463 @1 WWW:PROFACT-INTERNATONAL.COM IFPI LW03 IFPI AAHRO

01
02
03
04
05
06
07
08
09
10


11
12
13


14
See See Rider (February 18 - 1970, MS)
Release Me (February 18 - 1970, MS)
Sweet Caroline (February 16 - 1970, DS)
Runaway (August 25 - 1969, DS)
The Wonder Of You (February 18 - 1970, MS)
Polk Salad Annie (February 18 - 1970, MS)
Yesterday (August 25 - 1969, DS)
Proud Mary (February 168 - 1970, DS)
Walk A Mile In My Shoes (February 19 - 1970, MS)
Let It Be Me (February 17 - 1970, MS)

Bonus Recordings:
Don't Cry Daddy (February 18 - 1970, DS)
Kentucky Rain (February 16 - 1970, DS)
Long Tall Sally (February 18 - 1970, MS)

Rehearsal:
The Wonder Of You rehearsal, February 18, 1970)
03:06
03:11
02:43
02:46
02:35
05:33
02:27
02:47
02:59
03:42


02:38
03:20
01:35


06:58
US-A82-08-00582
US-A82-08-00583
US-A82-08-00584
US-A82-08-00585
US-A82-08-00586
US-A82-08-00587
US-A82-08-00591
US-A82-08-00588
US-A82-08-00589
US-A82-08-00590


US-RC1-09-00749
US-RC1-09-00750
US-RC1-09-00751


US-RC1-09-00752


Disc 2 - In Person
Known matrix numbers:
454464 @1 WWW:PROFACT-INTERNATONAL.COM IFPI LW03 IFPI AAHP9
454464 @1 WWW:PROFACT-INTERNATONAL.COM IFPI LW03 IFPI AAHRO


01
02
03
04
05
06
07
08
09
10
11
12


13
14
15
16
17
18
Blue Suede Shoes (August 25 - 1969, MS)
Johnny B. Goode (August 24 - 1969, MS)
All Shook Up (August 25 - 1969, MS)
Are You Lonesome Tonight? (August 24 - 1969, MS)
Hound Dog (August 25 - 1969, MS)
I Can't Stop Loving You (August 25 - 1969, MS)
My Babe (August 25 - 1969, MS)
Mystery Train / Tiger Man (August 25 - 1969, MS)
Words (August 25 - 1969, MS)
In The Ghetto (August 25 - 1969, MS)
Suspicious Minds (August 26 - 1969, DS)
Can't Help Falling In Love (August 26 - 1969, DS)

Bonus Recordings:
I Got A Woman (August 22 - 1969, DS)
Jailhouse Rock / Don't Be Cruel (August 22 - 1969, DS)
Heartbreak Hotel (August 22 - 1969, DS)
Baby, What You Want Me To Do (August 22 - 1969, DS)
Reconsider Baby (August 23 - 1969, MS)
Funny How Time Slips Away (August 25 - 1969, DS)
02:05
02:20
02:07
03:15
01:53
03:19
02:12
03:45
02:45
02:56
07:45
02:15


02:39
03:22
02:19
03:33
03:17
02:38
US-A82-08-00463
US-A82-08-00464
US-A82-08-00465
US-A82-08-00466
US-A82-08-00467
US-A82-08-00468
US-A82-08-00469
US-A82-08-00474
US-A82-08-00470
US-A82-08-00471
US-A82-08-00472
US-A82-08-00473


US-RC1-09-00753
US-RC1-09-00754
US-RC1-09-00755
US-RC1-09-00756
US-RC1-09-00757
US-RC1-09-00758