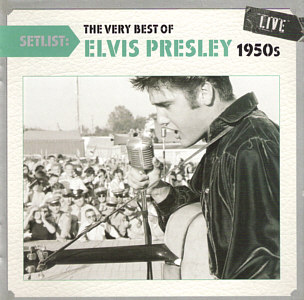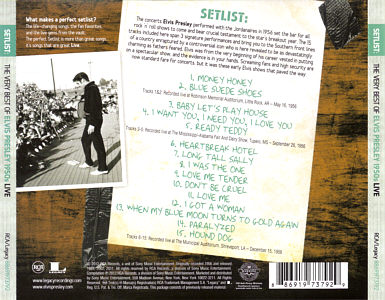 | | | | |
| --- | --- | --- | --- |
| Release: 2012 | Sony Legacy 88691973792 | USA | 12 € |
Made by Sony DADC Mexico
Comes with a 8 pages booklet with liner notes by Nicole Audrey Spector.

Old RCA and Legacy logos on back and CD.

The concerts Elvis Presley performed with the Jordanaires in 1956 set the bar for all rock n' roll shows to come and bear crucial testament to the star's breakout year. The 15 tracks included here span 3 signature performances and bring you to the Southern front lins of a country enraptured by a controversial icon who is here revealed to be as devastatingly charming as Fathers feared. Elvis was from the very beginning of his career vested in putting an a spectacular show, and the evidence is in your hands. Streaming fans and high security are now standard fare for concerts. but it was these early Elvis shows that paved the way.

See also: SETLIST: The Very Best Of Elvis Presley Live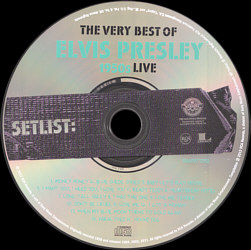 Matrix number: DIDX-814028 1 B01 IFPI L328 IFPI AKN04


01
02

03
04
05

06
07
08
09
10
11
12
13
14
15
Money Honey
Blue Suede Shoes

Baby, Let's Play House
I Want You, I Need You, I Love You
Ready Teddy

Heartbreak Hotel
Long Tall Sally
I Was the One
Love Me Tender
Don't Be Cruel
Love Me
I Got A Woman
When My Blue Moon Turns To Gold Again
Paralyzed
Hound Dog
02:20
03:29

02:39
02:53
02:17

01:47
02:38
03:09
03:29
02:58
03:36
03:21
02:48
02:57
04:31

US-RC1-02-00117
US-RC1-12-00506

US-RC1-56-06613
US-RC1-56-06595
US-RC1-56-06599

US-RC1-11-00539
US-RC1-11-00540
US-RC1-11-00541
US-RC1-11-00542
US-RC1-11-00543
US-RC1-11-00544
US-RC1-11-00545
US-RC1-11-00546
US-RC1-11-00547
US-RC1-11-00548
Recording dates:
Tracks 1+2: Recorded live at the Robinson Memorial Auditorium, Little Rock, AR - May 16, 1956
Tracks 3-5: Recorded live at the Mississippi-Atlanta Fair and Dairy Show, Tupelo, MS - September 26, 1956
Tracks 6-15: Recorded live at the Municipal Auditorium, Shreveport, LA - December 15, 1956